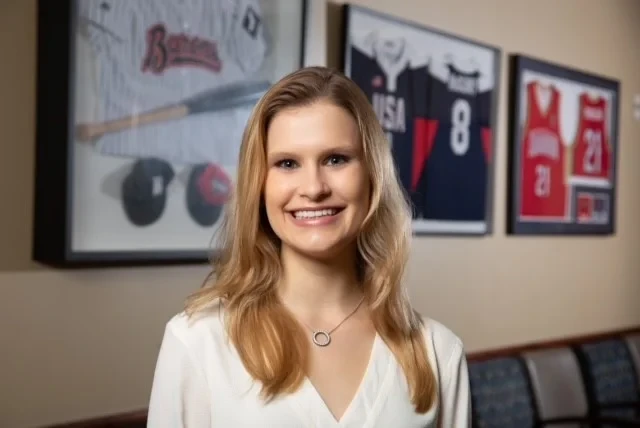 Kristin Gunderson Hiott, PA-C
Kristin earned her degree in Nutrition and Dietetics with an emphasis in Biology from Samford University. Following graduation from Samford, she completed a Dietetic Internship through the University of Houston then did an Adolescent Nutrition Traineeship at Children's Hospital of Alabama. She worked as a Registered Dietitian in Adolescent Medicine for about a year before starting PA school at the University of Alabama at Birmingham (UAB). During clinical rotations at UAB, she spent 4 months of elective rotations working with Dr. Rothermich before starting with him full-time in January of 2023.
As a physician assistant, Kristin works alongside Dr. Marc Rothermich in clinic. She assists in evaluation and treatment of many orthopaedic conditions including elbow, joint replacement, knee, shoulder, and sports medicine. She is also able to use her skills in surgery in assisting with knee replacements, shoulder arthroscopies, and other types of procedures.
Kristin's experience with being an injured athlete over the years has provided her with a deeper sense of empathy for her patients. She is able to relate to them as she provides care and helps them on their road to recovery. This exposed her to the world of orthopaedics. She was born in Florida but spent most of her childhood in Birmingham. She played various sports including soccer, cheer, dance, and cross country.

Kristin enjoys spending time with her husband, Chris, and their dog Reece, traveling, and hiking trails in Trussville, AL. She and her husband enjoy spending time with each other's families as well.

Certification:
Board Certified, Licensed Physician Assistant, Registered Dietitian (RD)

Medical Training & Education
Registered Dietition (RD)
Pre/Postnatal Nutrition Coach
Certified Physician Assistant