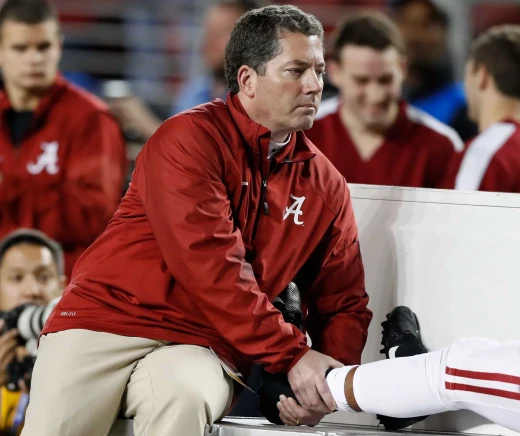 TideSports.com
By Ben Jones
Every Alabama football player is required to have his ankles taped or braced for every practice or game. That means every player comes to see Jeff Allen and his staff before every practice and every game.
He'll tape about 15 players a day before practice and more on game days. That works out to about two hours of work every day. Some may consider it one of the more ponderous tasks of his profession. Allen doesn't.
"It matters," Allen said. "It's not just a menial task. It matters."
The way Allen – Alabama's associate athletics director for sports medicine – sees it, about a quarter of the injuries he and the medical staff deal with are ankle injuries. That's why every player is required to..."
To read the entire article, by the TideSports.com's Ben Jones CLICK HERE.
Article quote from Dr. Lyle Cain, Jr.
"The main thing, and I've seen it happen where the athletic trainers, the players, and the coaches aren't on the same page and there's some controversy or lack of trust," said Dr. Lyle Cain, an orthopedic surgeon with Andrews Sports Medicine. "What you see typically is unhappy players, number one. Because the players don't trust the treatment that they're getting. That's a disaster. If the players feel like the athletic trainers are too much on the coaches' side, or the doctors are too much on the coaches' side or the team side, I think you totally lose trust in the system. They don't get well as quickly. They don't follow through on their plans for rehab, and it makes a difficult situation medically to deal with any kind of injury because the player really doesn't trust what you're telling them."
About Dr. Lyle Cain, Jr., MD

E. Lyle Cain, Jr., MD specializes in arthroscopy and treatment of sports-related injuries, as well as open and arthroscopic treatment of knee, shoulder and elbow injuries. In addition, he is certified to treat cartilage injuries in the knee with articular cartilage implantation and meniscal transplantation.
To schedule an appointment with Dr. Cain, call Andrews Sports Medicine & Orthopaedic Center at (205) 939.3699 and ask to speak with Dr. Cain's appointment scheduler.