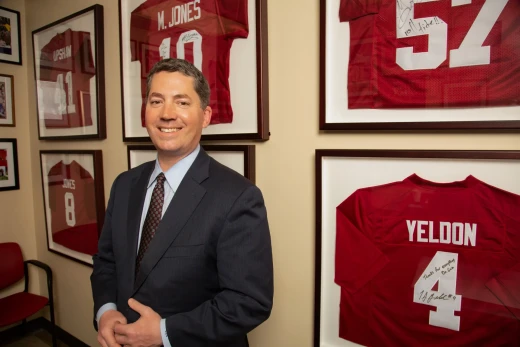 NFL.com
E. Lyle Cain, Jr. , M.D.
INDIANAPOLIS -- The bench press will be in the spotlight at this year's NFL Scouting Combine, a new-look event flanked by bleachers so fans can watch it live. When Alabama star defensive end Jonathan Allen steps to the bench, his efforts will be seen by all.
Behind closed doors, however, there will be just as many eyeballs on Allen's shoulders.
A consensus top-five pick, Allen will do the bench to show he's 100 percent, despite rarely doing the exercise with the Crimson Tide. Afterward, doctors will take a closer look.
E. Lyle Cain, Jr., M.D. quotes within article
Alabama team doctor Lyle Cain told me he knows that when teams examine the scans of Allen's shoulders -- both of which have been surgically repaired -- they will say at first glance, "Man, he's got some beat-up shoulders. But they don't know the story."
"Jonathan has really played without symptoms in his shoulders, and it's something that has not affected his performance or function," Cain told me. "It doesn't have to be treated during the season. And he's had a couple of great years."
"But he's played without any problems," Cain explained. "This is something that a lot of offensive linemen and defensive linemen have, things guys play with their whole careers. It's just a little earlier for him because he got hurt in college."
"Both of them (shoulders) have been repaired and healed," Cain said.
To read the entire NFL.com article, written by Ian Rapoport click here.