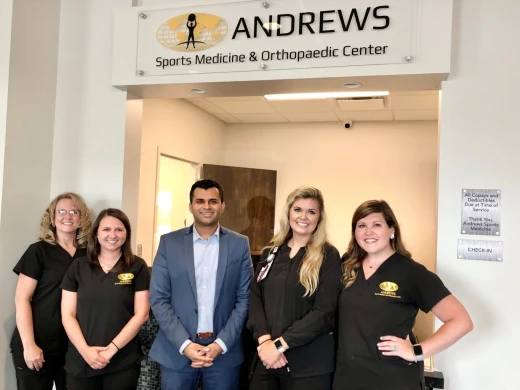 FOR IMMEDIATE RELEASE
August 8, 2017
Contact: Ron Rickel
(205) 581-7128
Andrews Sports Medicine Opening Gardendale Clinic & Adding New Physician
-New location will be staffed by Andrews-trained, Dr. Jay Umarvadia-
GARDENDALE, Ala. – Andrews Sports Medicine & Orthopaedic Center is excited to announce the opening of its newest clinic, located in Gardendale, Alabama.
The new clinic, at 210 Fieldstown Rd #124, will open Monday, August 14. The clinic will be staffed by Jay Umarvadia, M.D., the newest physician to be added to the Andrews Sports Medicine team.
"We are excited to be opening a Gardendale clinic to serve North Jefferson County and surrounding communities," said Jeffrey R. Dugas, M.D., an orthopaedic surgeon and managing partner at Andrews Sports Medicine & Orthopaedic Center.
Dugas goes on to state, "We're also proud to welcome Dr. Jay Umarvadia to our team of physicians, although he is no stranger to our practice. Dr. Umarvadia has been a valuable member of our team the last 12 months, while receiving his sports medicine fellowship training. Dr. Umarvadia's talent as a sports medicine physician will be vital to both treating patients at the Gardendale clinic and serving as team physician for Gardendale High School's athletics program."
Dr. Umarvadia recently completed his sports medicine fellowship with the American Sports Medicine Institute (ASMI), located in Birmingham. During the one-year fellowship, Dr. Umarvadia worked alongside Andrews Sports Medicine physicians and surgeons - receiving extensive experience treating patients, conducting research and providing athletic event coverage.
During his fellowship, Dr. Umarvadia was assistant team physician for Samford University and Homewood High School. He also provided on-site medical coverage for the NCAA Wrestling Championships, SEC Baseball Tournament, AAC Track Championships, Birmingham Barons, Mercedes Marathon and Alabama Ballet.
Dr. Umarvadia, a non-surgical orthopaedic and sports medicine physician, treats all types of orthopaedic medical issues, including sports-related and non-sports-related injuries and osteoarthritis in joints. He treats patients of all ages and all types of musculoskeletal injuries from sprains, strains, fractures and sports-related concussions.
Dr. Umarvadia is currently accepting new patients. He will begin treating pre-scheduled patients on Monday, August 14. Call (205) 939-3699 or visit AndrewsSportsMedicine.com to schedule an appointment.

###