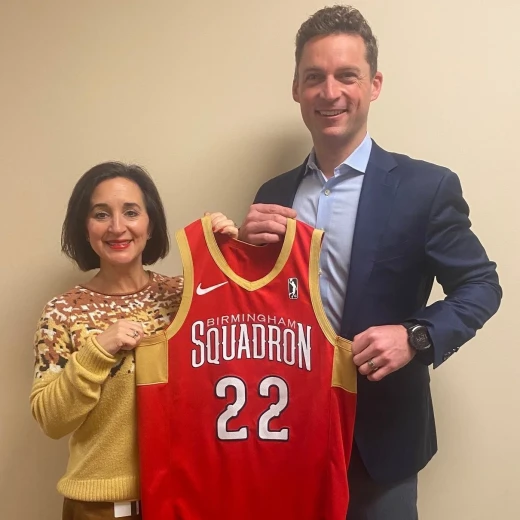 FOR IMMEDIATE RELEASE Contact: Ron Rickel
December 1, 2021 (205) 581-7128
BIRMINGHAM SQUADRON SELECTS ANDREWS SPORTS MEDICINE TO PROVIDE TEAM MEDICAL SERVICES
Dr. Emily Bell Casey and Dr. Michael K. Ryan serving as team physicians
BIRMINGHAM, Ala. — The Birmingham Squadron, the NBA G League affiliate of the NBA's New Orleans Pelicans, have reached an agreement with Andrews Sports Medicine & Orthopaedic Center to serve as the team's sports medicine provider.
"We're thrilled about our partnership with Andrews Sports Medicine & Orthopaedic Center," said David Lane, General Manager of Business Operations for the Squadron. "It is very reassuring to know our team has access to the skilled doctors at the world-renowned Andrews Sports Medicine to help keep our players safe and healthy."
During the 2021-22 season, Emily Bell Casey MD, non-surgical sports medicine physician, and Michael K. Ryan MD, orthopaedic surgeon and sports medicine specialist, are collaborating as the Squadron's team physicians to proactively keep the Squadron's players safe and prevent serious injury from occurring.
"Since the season tipped off in early November, it's been great getting to know the Squadron coaching staff and players while working alongside the team's athletic trainer, Gilchrist Schmidt," stated Dr. Michael K. Ryan. Dr. Ryan goes on to say, "We look forward to the Squadron having a successful inaugural season and we are hopeful we play a small role in helping the team stay healthy as they compete for a league championship."
"Being able to serve other sports programs alongside Dr. Ryan through the years has allowed us to create a teamwork synergy. We already work together to care for the student athletes at Samford University and Spain Park High School," states Dr. Emily Bell Casey. She goes on to say, "Now we could not be more excited to have the opportunity to bring our expertise to work with the Squadron."
About Us - Andrews Sports Medicine & Orthopaedic Center
Based in Birmingham, Alabama, Andrews Sports Medicine & Orthopaedic Center has built a worldwide reputation for excellence in sports medicine and orthopaedic patient care, innovation, research, education, and sports injury prevention. We couldn't have done it without our dedicated doctors and staff, and the countless number of patients who have trusted in our team to aggressively pursue victory over their injury. In collaboration with our research and education partner, the American Sports Medicine Institute (ASMI), our practice strongly emphasizes improving the understanding, prevention and treatment of sports-related injuries. For more information, visit AndrewsSportsMedicine.com
####