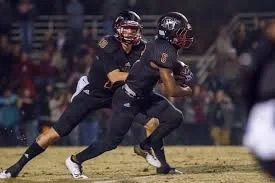 Written by David Knox, Sports Editor
Maybe it's just rolled, Bo Nix thought. Maybe I can play with it. Maybe I can walk it off.
It was a zone read, and the No. 2 dual-threat junior quarterback in the nation intended to find the end zone. He pulled the ball away and ran to the right, cut upfield and cut behind a defender.
"Then somebody came from my left and they tackled me kinda low, and when their body weight fell on my ankle at about the 3-yard line," Nix said.
He got up from the Willie Adams Stadium turf and tested it out. He was hoping it was just a bad sprain, maybe, but the realization was starting to sink in.
The Pinson Valley star junior quarterback handed off on the next play to Dilan Henderson, who found the end zone for a 3-yard touchdown, then Nix knelt down and held for Aiden Campbell's extra point to give the Indians a 14-0 lead over Jasper.
The four-star prospect then hobbled over to the sideline to his head coach.
"I'm done, Dad. I'm out for the game."
"At first he looked at me like, 'Are you joking?' And I said, 'No, I'm really hurt.' When he heard that he knew something was wrong, because he knew if it...
To view the complete Trussville Tribune article, CLICK HERE.