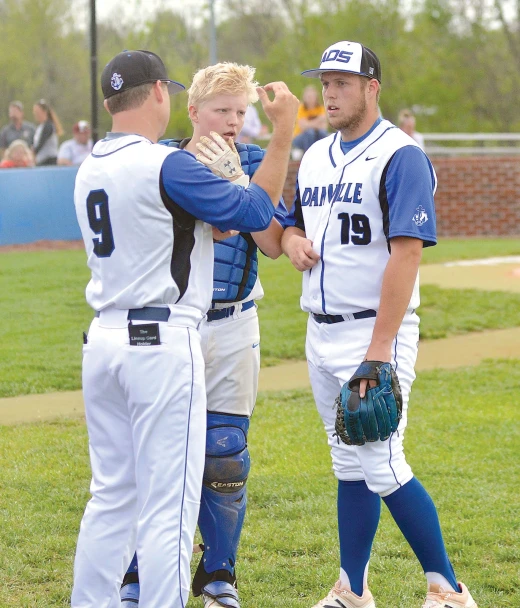 When Brian Baxa was pulled from his start with an injury during a game at Boyle County, the last thing the Danville senior ace pitcher was thinking about was a season-ending injury.
"Definitely not. I was thinking it was more of a just like a forearm injury, something where I'd have to sit out a week or two," Baxa said. "Nothing too serious."
Well, it turned out to be serious.
A week later, Baxa found out he had torn his Ulnar Collateral Ligament in his right arm, scratching him from the rest of the season on the mound and setting up a necessary Tommy John Surgery in the offseason.
And just like that, everything Baxa worked for was thrown in the air and scattered to the wind.
"I started thinking about how I wouldn't be able to help my team on the mound the rest of the season," Baxa said. "I was more worried about this year, I wasn't thinking about in the future. I was more devastated about how this would hurt the team this year. … I had a bunch of pitching goals that I was striving for that I wasn't going to be able to reach."
Baxa will get surgery in a few weeks, June 6 in Birmingham, Alabama. His research says it'll be about eight months until he can pick up a ball and nearly a year before he can pitch.
But the remainder of this season wasn't lost for Baxa, though.
While his pitching numbers stayed pat after his injury — he finished his final high school season with a 5-3 record in 56 2/3 innings pitched and a 3.09 ERA, striking out 103 and walking 23 — his offensive numbers certainly didn't. In fact, he hit a hot streak in the final 11 games of the season, hitting .531 (17-of-32) with 11 runs, 14 RBI and three home runs.
The Ads went 7-3 in their final 10 regular season games, and Danville coach Paul Morse credits much of that to the example Baxa set.
"Could he have gone the other way, hung his head and 'oh pity me'ed' it, sure, but I didn't think that'd be the way he handled it," Morse said. "I think that's the reason why we finished strong in the regular season, the kids picked up on his attitude."
However, Danville's season came to an end earlier this week with an 11-1 loss to Lincoln County in the first round of the 45th District tournament. Morse knows the injury affected how the season played out, reasoning the Ads could have held on to win the first game against Boyle. Coupled with their win in the rematch this season, they could have claimed the top seed and maybe advanced to today's district final.
Just because the high school season is done for Baxa doesn't mean his schedule slows down. Morse said his nephew wants to play with his summer team the weekend before he goes in for surgery, and he wants to travel to South Carolina with his travel team.
The most definite item on the list this summer is the surgery. Baxa will have his surgery done by Dr. E. Lyle Cain, Jr., at the Andrews Sports Medicine and Orthopaedic Center — named for the famed Dr. James Andrews, who is credited with perfecting the Tommy John Surgery.
Baxa got the connection with Cain, who has taken over Andrews' mantle as the go-to doctor for professional athletes with this injury, through a former teammate of Morse's at UK, Dr. Janak Talwalkar of Lexington.
"Back then 20, 25 years ago, it was almost a death sentence for your career," Morse said. "It's come a long way. Dr. Andrews has invented this procedure and surgery. Even though he's not doing it any more, we're sending Brian down there to him."
For Baxa, having his surgery done by one of the leaders in the sports medicine industry in Cain certainly gives him some peace of mind.
"Of course, since he is the one who does most of the professional players and a lot of the pitchers have had it done and they've come back as good if not better than before, I'm really blessed that he's doing my surgery," Baxa said. "I'm more confident that I'll come back and nothing will go wrong."
Earlier this spring, Baxa signed to play baseball at UT Martin in Tennessee. And despite his injury, those plans haven't changed.
"After I got out of the doctor and found out, I called my (college) coach...
To read the entire The Advocate-Messenger article, written by Jeremy Schneider, CLICK HERE.