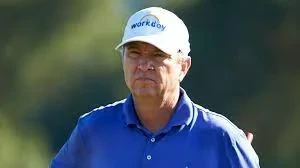 To read the entire article written by Rex Hoggard, click here.
Davis Love III is recovering following surgery to repair a torn labrum in his left hip on Wednesday.
Love, who underwent the procedure at Andrews Sports Medicine and Orthopedic Center in Birmingham, Ala., said his hip had been bothering him for most of this season and finally decided to have the procedure so he'd be ready to play again to begin the 2016-17 PGA Tour season and perform his duties in September as the U.S. Ryder Cup captain.
"I figured, let's get it done right now so on the first of September I'm walking well without a limp. I don't want to go into the Ryder Cup with any issues," Love said.
Love's ailing hip forced him to withdraw from two of his last three starts, including last week's WGC-Bridgestone Invitational, and his surgeon, Dr. Benton Emblom, described the surgery as a "minor scope procedure."
"He smoothed out the [hip] ball, basically, and repaired the labrum which had a small tear," Love said. "I'm relieved because I could feel it jabbing me worse and worse the more I played."
Love said his biggest regret is not being able to play the PGA Championship, which he won in 1997, and the Wyndham Championship, where he would have been the defending champion.
As far as his duties as this year's Ryder Cup captain, Love was already back at work on Wednesday afternoon talking with Dr. Ara Suppiah, who will be assisting the U.S. team at this year's matches, and planning upcoming meetings.
Love said he plans to attend the PGA to meet with players and has a team dinner scheduled the week of the Deutsche Bank Championship in early September. He also said he plans to be able to play by mid-September when he will make a scouting trip to Hazeltine National, the site of this year's matches.
"It's kind of a blessing I don't have anything to do for two or three weeks. I can get caught up. I won't have any real distractions until the team gets finalized," Love said. "I'm going to miss being able to play with the guys, but I'm already working on things to make sure I'm in contact with the entire team."
Love had neck surgery in 2013 and a procedure on his right foot in 2015 to correct two dislocated toes and digital contracture, commonly known as hammertoe, and is confident the recovery process will go as smoothly this time as well.
"Brandt [Snedeker] had the same surgery and I've talked to him about it and the recovery. If I do the work I can come back better than I was before," he said. "Look what Brandt has done since his [hip surgery]. I'm good at rehab."