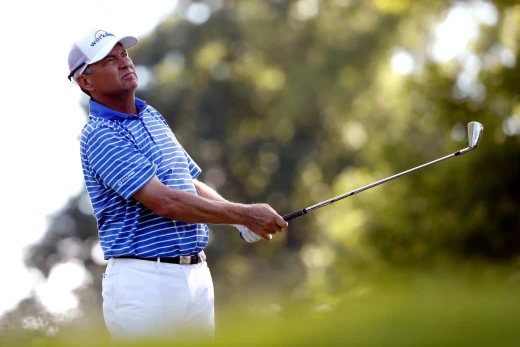 RSM Classic
Davis Love III underwent successful arthroscopic hip surgery today in Birmingham, AL.

Love's surgery was performed by Dr. Benton A. Emblom, a hip specialist with Andrews Sports Medicine & Orthopaedic Center, at St. Vincent's Birmingham.
According to Dr. Emblom, "Fortunately, Davis' hip labrum was overall intact requiring minor repair; however, he did have significant femoroacetabular impingement (FAI) and a CAM deformity on his left femur, which we corrected." Emblom goes on to state, "The hip impingement is a condition in which there is abnormal contact and wearing between the ball and socket of the hip joint. Davis was experiencing limited motion and rotation from increased friction during hip movements – like swinging a golf club."
Love's recovery is expected to take from 12-16 weeks, and he is expected to be out until the beginning of the 2016-17 season in October. Davis' recovery process will begin tomorrow, with his initial physical therapy session at Champion Sports Medicine, also in Birmingham. Davis is expected to return home to Sea Island, GA soon after to continue his rehabilitation and recovery.
Love is anticipated to make a full and complete recovery and serve as U.S. team captain for the 2016 Ryder Cup, to be held September 30-October 2 at Hazeltine National Golf Club in Chaska, MN.