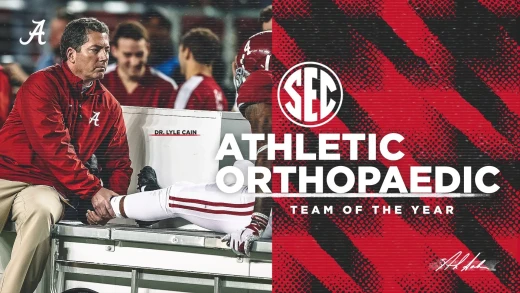 Each year, the Southern Orthopedic Association announces the annual SEC Team Physician and Orthopaedic Team of the Year. The honors are awarded to a physician and orthopaedic team who are recognized for their dedication, commitment and service to their school's student-athletes and athletics department and is voted on by representatives from all 14 SEC school.
The University of Alabama athletics department distributed the below press release honoring Dr. Lyle Cain and his Andrews Sports Medicine partners - Dr. Benton Emblom, Dr. Kathleen McKeon, Dr. Norman Waldrop - who are part of the Orthopaedic Team of the Year assisting with the orthopaedic care of Crimson Tide student athletes.
RollTide.com
The team orthopedic surgeon is recognized for his 20 years of service to Alabama Athletics
TUSCALOOSA, Ala. – University of Alabama team orthopedic surgeon, Dr. Lyle Cain, has been recognized as the SEC Team Physician of the Year, and the University of Alabama Athletic's orthopaedic team has been named the SEC Orthopaedic Team of the Year, the Southern Orthopaedic Association recently announced.
"Our orthopaedic team that serves the University of Alabama Athletics is..."
CLICK HERE to read the RollTide.com press release.