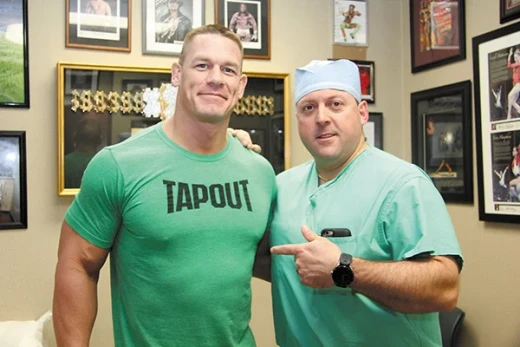 By Cara D. Clark
At first glance, a ballet dancer and a wrestling superstar seem the ultimate juxtaposition. Closer scrutiny reveals the similitude of performance arts and athleticism. And a deeper dive shows even more commonality through relationships with Jeffrey Dugas, MD, an orthopedic surgeon with Andrews Sports Medicine and physician to the Alabama Ballet and the WWE.
Dugas, who specializes in elbow, knee and shoulder surgery, treats injuries across the spectrum from globally renowned wrestling stars to local cheerleaders, high school standouts and average Joes.
An avid baseball fan, Dugas took that passion with him in fellowship training with Dr. James Andrews. Working with a surgeon whose patients include Troy Aikman, Charles Barkley, Roger Clemens, Bo Jackson, Michael Jordan and Jack Nicklaus was undoubtedly a good gig.
It got even better when Andrews asked Dugas and cohort Lyle Cain, MD to join him in partnership, creating a synergy between the surgeons that has lasted more than two decades. Dugas says their recruitment of like-minded orthopedic specialists who share their work ethic has been a key to excellence.
Dugas, a graduate of Duke Medical School, did his residency at the Hospital for Special Surgery in New York and says that training with the best in the world...
To read the entire article, by the Birmingham Medical News Cara D. Clark, CLICK HERE.