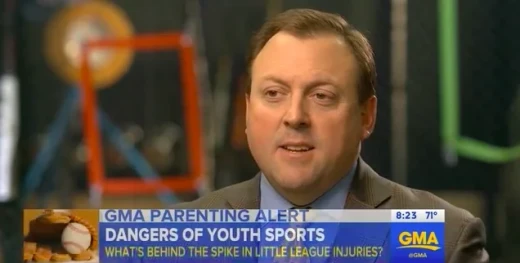 Thank you to ABC News/Good Morning America producer, Suzanne Yeo, for asking Dr. Jeffrey Dugas to participate in this educational segment that aired nationally on Tuesday, May 30, 2017. The interview was conducted by Jessica Mendoza, a special correspondent to Good Morning America and a member of the broadcast team for ESPN's Sunday Night Baseball.
Produced By Suzanne Yeo
As Little League season gets underway, experts are warning parents about a recent uptick in baseball-related injuries that have been appearing in younger and younger athletes.
Former Olympic softball player and current ESPN correspondent Jessica Mendoza spoke to one 13-year-old athlete and to sports medicine experts for "Good Morning America," and found that the number of baseball-related injuries have increased as more young players compete in the sport year-round.
Experts said they are now seeing an increase in some of the more severe overuse injuries in younger patients, including a sharp increase in the number of young athletes requiring a reconstructive elbow surgery commonly known as Tommy John surgery.
"When I started my practice 17 years ago, Tommy John surgery was really a college and pro phenomenon, with a couple of high school athletes," Dr. Jeffrey Dugas, an orthopedic surgeon at the Andrews Sports Medicine and Orthopaedic Center in Birmingham, Alabama, told ABC News, adding that now high school athletes make up more than 55 percent of his Tommy John surgery patients.
A recent survey found that 15- to 19-year-old athletes made up nearly 60 percent of all Tommy John surgeries in the U.S., according to the American Journal of Sports Medicine.
Dugas told ABC News...
To view the complete written story on the Good Morning America website, CLICK HERE.