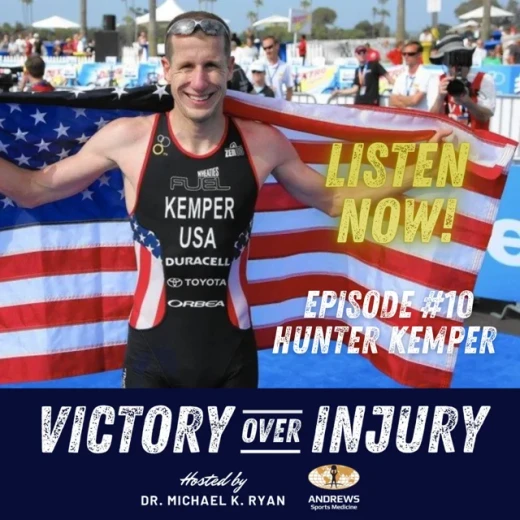 In episode #10 of the Victory Over Injury Podcast presented by Andrews Sports Medicine, Dr. Michael K. Ryan takes a special deep dive into the life, career and experience of Hunter Kemper, Olympian, National Elite Champion and World Champion.
Hunter Kemper, a 4-time Olympian and 7-time U.S. Elite National Champion, is the most decorated U.S. triathlete in history. A 4-time member of the USA Olympic triathlon team, he is one of only two men in the world to qualify for every Olympic triathlon (2000, 2002, 2008 and 2012).
Dr. Ryan and Hunter get into what drives Kemper's training, his mental and physical endurance and the challenges he faced competing in the Olympics.
Be sure to follow "Victory Over Injury" wherever you listen to podcasts.
A special thank you to our producer, Ed Hill, and our intern, James Harris, UAB School of Medicine (Class of 2023) for helping make this podcast series possible.
Episode Notes
00:03:30 – Mental aspect of training for the Olympics
00:06:50 – 2020 Tokyo Olympics
00:11:20 – Sport of triathlon debuts at 2000 Sydney Olympics
00:13:30 – Importance of kids playing multiple sports
00:17:10 – Fear of missing out - youth sports
00:19:10 – Wake Forest student-athlete
00:21:30 – Successful transition from amateur to pro athlete
00:27:30 – Emotions of competing in first Olympic games
00:31:40 – U.S.O.P.C. - assistance for retiring athletes
00:35:22 – Career injuries
00:41:50 – What makes a great sports medicine team?
00:43:40 – Emotional battle of overcoming injuries
00:46:07 – Prehab for injury prevention
00:47:10 – Acute injury vs. overuse injury
00:48:48 – Confidence in overcoming injuries
00:51:54 – #1 male triathlete in the world (2005)
00:52:45 – Importance of nutrition & hydration
00:55:42 – Control & maximizing potential
00:57:00 – U.S. Olympic & Paralympic Training Center
00:59:18 – High-altitude training
01:00:00 – Live high, train low
01:01:35 – Acclimate for competition
01:02:38 – Career highlight
01:04:00 – Love what you do
01:05:29 – Retirement - mentorship & coaching
01:11:00 – Why do triathletes shave their legs?
01:12:40 – Favorite pre- & post-race meals
01:14:00 – Philosophy of life