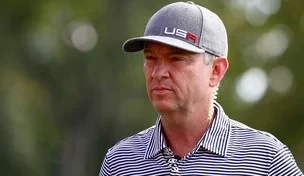 By Rex Hoggard
Davis Love III is recovering from surgery on his right collarbone following a snowboarding accident in Idaho this week.
Love broke his collarbone in three places while snowboarding with his son, Dru, in Sun Valley and was flown to Birmingham, Ala., where the surgery was performed on Thursday by Dr. Lyle Cain at the Andrews Sports Medicine and Orthopaedic Center.
According to Love's manager Mac Barnhardt, the 21-time PGA Tour winner is recovering after having a plate and eight screws put into his collarbone.
"Davis said, 'I committed the cardinal sin of following Dru down the mountain,'" Barnhardt said.
Doctors expect Love, who was scheduled to play next week's Sony Open, to be able to start swinging a golf club again in six weeks and he should be ready to return to the Tour in 12 weeks.