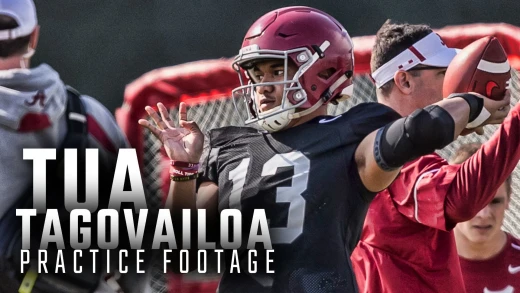 By Matt Zenitz
One week later, Tua Tagovailoa is already back throwing some in practice and going through drills with Alabama's other quarterbacks.
Tagovailoa has been back practicing in at least a limited capacity since last Thursday, which was two days after breaking the index finger on his throwing hand. The sophomore has since progressed to doing more during each of the last two practice viewing periods.
"Tua has made a very nice recovery from his hand," Crimson Tide coach Nick Saban said Tuesday. "... We probably have the best medical staff and the best medical group of people. Dr. Andrews, Dr. Cain, their whole group of people over there have done a phenomenal job with so many players here. I guess it's a little bit like having insurance. It doesn't matter what kind of insurance you have until you have to make a claim. But these guys are fabulous. And when we get guys hurt, man, they do a great job with them. Tua was actually able to do stuff in practice today. Actually able to hand the ball off, could grip the ball, could throw the ball a little bit."
Alabama is hopeful that Tagovailoa will...
To read the entire AL.com article, by Matt Zenith CLICK HERE.