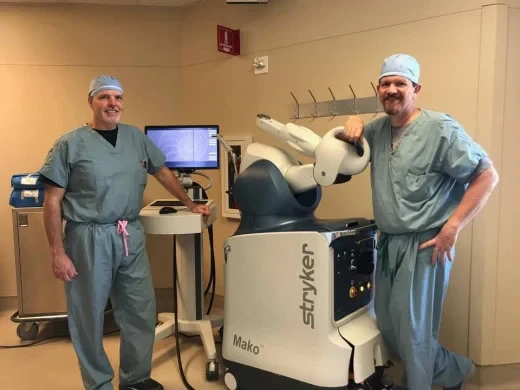 Birmingham Medical News
The surgeons at Andrews Sports Medicine & Orthopaedic Center are the first in Birmingham to use Stryker's Mako Robot-Arm Assisted Surgery System in total knee, partial knee and hip replacements. This robotic technology increases accuracy in joint replacement procedures.
The initial system was installed at St. Vincents Birmingham in August and has been so successful a second robot is already in use.
Surgeons Jeffrey Davis, MD and K. David Moore, MD both give the robot high marks in improving quality of care.
"I've been doing these operations for 25 years," Moore said. "And there have certainly been incremental improvements in implants and the way we care for patients, but this is the biggest step forward I've seen. After using the robot for a very short period of time, doing it the conventional way feels antiquated now. This is going to be an important step forward in terms of results and -- in all likelihood -- in how long these implants last."
"From a standpoint of reproducibility and accuracy, this beats anything we..."
To read the entire Birmingham Medical News article, written by Marti Slay click here.