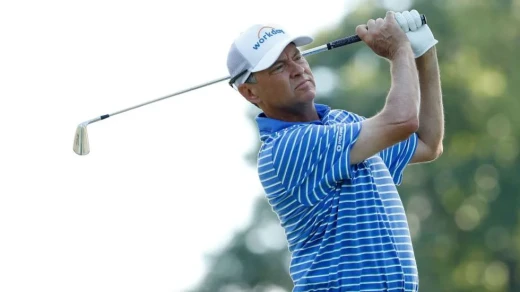 To read the entire article by T.J. Auclair, click here.
Ryder Cup USA Captain Davis Love III underwent a successful left hip surgery in Birmingham, Ala., on Wednesday and is expected to make a full and complete recovery in time to stroll the fairways at Hazeltine National in September for the 2016 Ryder Cup.
"FORTUNATELY, DAVIS' HIP LABRUM WAS OVERALL INTACT REQUIRING MINOR REPAIR; HOWEVER, HE DID HAVE SIGNIFICANT FEMOROACETABULAR IMPINGEMENT (FAI) AND A CAM DEFORMITY ON HIS LEFT FEMUR, WHICH WE CORRECTED," SAID DR. BENTON A. EMBLOM, A HIP SPECIALIST WITH ANDREWS SPORTS MEDICINE & ORTHOPAEDIC CENTER, AT ST. VINCENT'S BIRMINGHAM, WHERE LOVE HAD THE PROCEDURE.

"THE HIP IMPINGEMENT IS A CONDITION IN WHICH THERE IS ABNORMAL CONTACT AND WEARING BETWEEN THE BALL AND SOCKET OF THE HIP JOINT," EMBLOM ADDED. "DAVIS WAS EXPERIENCING LIMITED MOTION AND ROTATION FROM INCREASED FRICTION DURING HIP MOVEMENTS -- LIKE SWINGING A GOLF CLUB."
Love's recovery is expected to take 12-16 weeks. He's targeting the first tournament of the 2016-17 PGA Tour season in October -- the Safeway Open in Napa, Calif. -- for his return to competitive golf.
With his first day of rehab beginning today, we caught up with Love for a Q&A to talk about the procedure, recovery and what it means for his Ryder Cup planning.
PGA.com: You've been telling us for a while now that your hip has been an issue. What was the tipping point for Wednesday's surgery?
Love: It was getting more and more uncomfortable. I worked so hard in March to get ready for the Masters and Hilton Head stretch. Through working hard on the swing, I was continually making things worse for my hip. For every day life, it didn't bother me, but for swinging and turning and walking, the more I did it, the worse it got.
Swinging correctly with the mechanics required to hit 300-yard drives and trying to keep up with the younger guys, was tearing my hip up, I tried an injection to calm it down and that didn't work.
I'm laying on a bed right now. My right foot has always flopped to the side when I sat down. My left side never did that. After surgery, it's already better. It was locked, basically. It's been about a 2-3-month process. After Charlotte and the Players -- actually starting in mid-May -- we've been trying to figure out what to do. I either had to quit playing until after the Ryder Cup, or get it done quickly and be ready to walk in September. I didn't want to push it another month and be physically limited at the Ryder Cup. I also didn't want to wait and screw up next season, which starts two weeks after the Ryder Cup.
PGA.com: Was it a difficult decision given the tournaments you have coming up?
Love: Yeah. The painful part of all this is missing the PGA Championship and the Wyndham Championship, where I'm the defending champion. It was hard to give up on the PGA.
Now that I've crossed that bridge, I'm excited about hitting balls before the Ryder Cup and then walking at the Ryder Cup without a limp and playing Safeway at full speed. It went better than they expected. There was nothing afterward said about, "this will take longer than expected." The bump of the bone was worse than we thought, but the labrum was better.
The bump I had is now gone. All of the sudden, I have hip freedom again. I've got to let the bone heal and then it's free. Brandt Snedeker had this procedure too. This isn't as big a deal as my neck or foot. With those procedures, I wasn't sure if I could come back at all. This is minor compared to those.
PGA.com: Were you putting the surgery off because of the big tournaments coming up?
Love: No. Not at all. I followed doctor's orders. The doctors wanted to try everything before surgery. I've been to the Andrews Clinic 8-10 times and they didn't cut me until yesterday. You want to avoid it if you can. We tried everything before settling on the surgery and realizing I'd have to shut it down for 2-3 months.
I felt I played really well through March and April. I was hoping it would get better, but literally at Tiger's tournament a couple of weeks ago (the Quicken Loans National), I was looking for an alternate before I teed off on the range.
Before I teed off that Thursday, I looked for an alternate on the range so I wouldn't take the spot. I knew I couldn't make it. I was feeling good in the morning, but 4-5 holes in I wasn't and needed to withdraw.
PGA.com: And then you teed it up last week at the WGC-Bridgestone Invitational.
Love: I did. I played one round there and couldn't go anymore.
PGA.com: And while you were at Bridgestone, you were also recognized as the 2016 Ambassador of Golf -- a pretty big-time award.
Love: It meant alot to receive the award. I'm always humbled, honored and a little uncomfortable to get awards like that and the Bobby Jones or Payne Stewart awards.
But, with this one, it gave me a chance to say some things about my dad and my mom... she's doing well, but not the same as before the stroke. It gave me a chance to tell people why I'm proud of that award and why my dad would have been proud of it.
As you know, my dad was a PGA Professional. He taught me to play golf, but also what it meant to be a golf professional. He carried on the teachings of Harvey Penick and Byron Nelson -- the tradition of being professional, making people enjoy the game and having a servant's heart. His life revolved around helping people enjoy their golf. I'm just trying to carry on the traditions of my dad, Penick and Nelson.
The only way I could take any credit for an award like this is if one day guys like Rickie Fowler, Jason Day, Jordan Spieth, or Rory McIlroy -- any younger guys -- talk about seeing the example someone like me set for them. That's special.
You look at the list of people who have received this award. So many great golfers and people influential in the game -- President Bush and Barbara Nicklaus -- Barbara Nicklaus actually got it before Jack! It's hard to believe I'm on that list of people. I've been kind of blown away by it.
PGA.com: Lastly, regarding Ryder Cup preparations. Is the surgery almost a blessing in disguise in that regard?
Love: I said to Susan Martin (a manager at the PGA of America) -- God always has a plan. I need to get caught up, apparently. Susan and I spent 45 minutes talking about stuff yesterday. Being off over the Fourth of July weekend, I spent probably 25 hours on Ryder Cup stuff to get ready for the surgery in case the rehab takes up a lot of my time.
Tom Lehman is working on an awesome dinner for us at the Deutsche Bank Championship. Tiger is working on groupings and pairings. Gifts, we're wrapping up clothing things. There are so many things I can do now that I'd usually do after a round starting at 9 at night.
This downtime will give me a chance to be more organized. Let me just say this: I won't be bored from not playing.