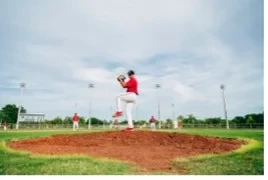 VICE SPORTS
Jeffrey R. Dugas, M.D.
For nearly half a century, a UCL injury has meant complete elbow reconstruction for pitchers—and over a year of rehab. Thanks to an enterprising doctor and some very high-quality tape, that is finally changing.
Dr. Jeff Dugas has scrubbed in for about 2,000 surgeries on the ulnar collateral ligament of the elbow. He reconstructs the injured ligament with a tendon grafted from the patient's forearm or leg. All sorts of athletes come in for the operation—wrestlers, javelin throwers, gymnasts—but most frequently they are pitchers. The surgery is even named after a pitcher, Tommy John, the Los Angeles Dodgers southpaw who had the first successful procedure in 1974.
Four decades later, organized baseball is in the midst of an epidemic of arm injuries as a result of overuse, according to the American Sports Medicine Institute. Front and center is the UCL. Tommy John surgery has almost become routine in professional baseball. As Dugas started opening up more and more elbows, he would look at the UCL and think, Why are we here?
While an MRI might reveal something wrong with the UCL, it would not always reveal the severity of that problem, meaning that surgery would be required and doctors like Dugas would have no choice but to completely reconstruct the elbow. Big league pitchers were missing whole seasons because of partial tears. It was like repainting the whole car because of a scratch on the hood.
In general, pitchers are eventually able to regain their velocity after Tommy John, but it's a long and laborious process. The inserted tendon, which formerly made its living attached to a muscle, must learn to behave like a ligament and adhere to a bone. Nevertheless, elbow reconstruction has been the path for 43 years, leaving scores of pitchers with the telltale scar shaped like a smiley face on the inside of their elbow.
In 2012, the same year a record 36 pitchers had the procedure, Dugas started to wonder if a less invasive surgery were possible. Could there be a repair of the ligament that would cut rehabilitation to five or six months, instead of the usual 12 to 18?
Dugas has an undergraduate degree in chemical engineering from North Carolina State, and he decided to put it to use in order to try to find out. If he succeeded, it would change the game.
In January 2013, 17-year-old pitcher Mark Johnson began to feel pain in his left elbow just prior to the start of his junior season at...
To read the entire Vice Sports article, written by Ray Glier click here.