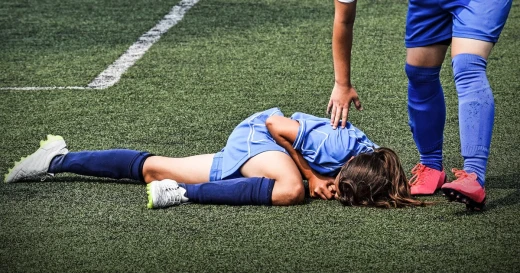 NATIONAL SCOUTING REPORT
Jeffrey R. Dugas, M.D.
A lot of athletes will have to deal with injuries throughout their careers. Throwing athletes will have shoulder problems, running athletes tend to have knee or ankle problems. Every sport is different. Sometimes, athletes get lucky, and the injuries they experience aren't serious, nor do they require a lengthy recovery period. But that isn't the case for the vast majority of athletes.
There is no foolproof way to stay free of injury while playing sports. But there are ways for young athletes, or any athlete really, to keep the odds in their favor.
According to Dr. Jeffrey Dugas, surgeon, and sports medicine specialist at the Andrews Sports Medicine & Orthopedic Center, "They (athletes) have to recognize that this is a marathon, not a sprint. They are in this for four or five years.

"They have to recognize that the marathon requires them to prepare their bodies accordingly. They have to see it that way. They can't ignore injuries. That's the worst thing you can do as a new college athlete or a new high school athlete."
When moving from high school to college athletics, it's imperative that athletes are preparing themselves for the transition. Athletes will be training a minimum of 20 hours a week between workouts, practices and whatever else the coach requires, which is a lot more than in high school. Since being a collegiate athlete requires more hours, injuries tend to occur more often.
"There is definitely an uptick in injuries as you move up a level, that's why the injury rate goes up," Dugas said. "You're upticking the stress on the body. It's even more important as you get older to focus on flexibility and preparation.
"When you're 10 or 12, you're not going to spend that much time stretching and warming up. But when you're 18 or 19, and you're stepping into a higher level of play, you better make sure you're body is ready for that, and prepare your body for it and make sure you rest."
Recognized as one of the Best Shoulder Surgeons in America and a Top Doctor in Sports Medicine and Orthopedics among many other impressive titles, Dugas works with many athletes and notices common issues young athletes tend to experience.
"As sports medicine physicians, we recognize that there are games that are more important than others," Dugas said. "But you're going to have a hard time convincing us that the first game of the season is the most important game. It's not. It's probably the least important one."
"That ramp up period before you get ready for your first game -when you're doing all of the work- that's when you see more injuries," Dugas said.
Even though it's important for athletes to compete in their high school or travel ball games to get recruited by college coaches, competing injured is not the best thing to do.
"I think that you have to look at the risk benefits," Dugas said. "You're not going to stick a kid in there that's going to make it worse and be limping around the field and can't perform at all.
Dugas explains risk benefits are different for everyone and are decisions made based on the situation. Take this situation he describes from this year's Super Bowl:
"There was a guy from the (Atlanta) Falcons who played in the Super Bowl, and he had a fibula fracture, so he had a broken bone in his leg, and he played the whole game. Keep in mind we are talking about the Super Bowl. But a fibula fracture, we know we can deal with that after the game in the offseason. If he makes it worse, we're still going to fix it… We're not talking about a regular season game. We're talking about the Super Bowl. In the highest level of professional sport, where the benefit is certainly real, and the risk is not that bad. We're going to weigh the risk and the benefits to the kid at the high school level and if they are just going to make it worse, or there is a real danger of them hurting themselves, we're not going to clear them to play."
Weighing the risk benefits for young athletes is tough. It's not an easy thing to do for someone aspiring to be a collegiate athlete. We get it. Athletes need to make sure they are putting themselves in the best position for success long-term. Recognize, there is a difference between high school level sports and collegiate sports. While there's no remedy to stop injuries, you can get ready for the progression from high school to college by preparing your body for the rigorous increase in stress and hope for the best.
Let NSR help you through the recruiting process and find the college or university that is right for you!
To read the entire National Scouting Report article, written by Chelsea Eytel click here.