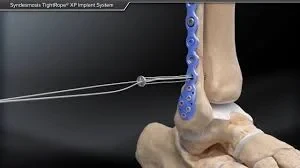 WBBH-TV (NBC 2)
Thanks you to NBC 2 for sharing the history of Arthrex's 'TightRope' surgical innovation. The article published online Friday, December 28, 2018.
NAPLES, Florida — The work of a Naples company is about to be on display on one of the country's biggest stages.
On Saturday the Alabama Crimson Tide, quarterbacked by Tua Tagovailoa, will face the Oklahoma Sooners in the first round of the College Football Playoff in Miami.
Many followers of the sport consider Tagovailoa's playtime to be the biggest variable of the game. The sophomore injured his ankle four weeks ago against the University of Georgia in the SEC Championship game. It was a high ankle sprain, meaning the fibula tore away from the tibia.
Team doctors decided right away that Tagovailoa would need surgery. He was taken to the Andrews Sports Medicine and Orthopaedic Center in Birmingham, where he was operated on with materials provided by Arthrex, a company based out of Naples.
Pete Denove is the senior director of product management with Arthrex and helped develop the specific tools used...
CLICK HERE to read the complete NBC 2 article.