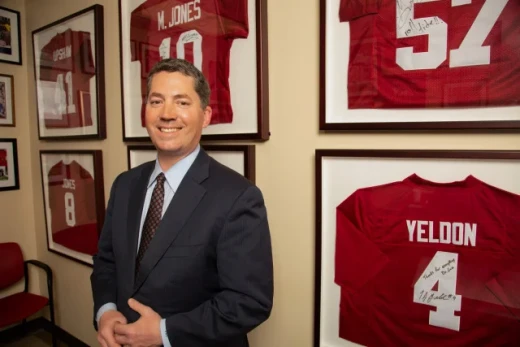 The Washington Post
E. Lyle Cain, Jr. , M.D.
WASHINGTON D.C. -- Like skid marks at the scene of a car crash, the evidence of a college career's worth of collisions was evident to a skilled medical practitioner looking to find fault with the test results on Alabama defensive end Jonathan Allen at the NFL scouting combine. There were signs of surgery on each shoulder and a trace of arthritis in each joint.

In the estimation of some NFL teams, that apparently was enough to knock Allen from his projected status as a top-five selection in this year's draft. An unexpected run on offensive players dropped him further.
E. Lyle Cain, Jr., M.D. quotes within article
Allen underwent shoulder surgeries to repair muscle tears in back-to-back seasons while at Alabama, but in each case returned to compete effectively. In an interview prior to the draft, Dr. Lyle Cain, an associate of Andrews who also works with Alabama football, detailed the procedures and downplayed any concern, telling the NFL Network: "This is something that a lot of offensive linemen and defensive linemen have … things guys play with their whole careers."

David Geier, an orthopedic surgeon and sports medicine specialist in Charleston, S.C., said in a telephone interview that Cain's endorsement and Allen's strong finish to his college career likely carried weight with NFL executives.

"When you hear 'arthritis,' that's still a risk. A guy has got to use his arm and wrist to drag his guy to the ground, and that's going to scare some teams off," Geier said. "But I feel like if he played for two years after that and never missed a snap, the risk isn't probably that high."
To read the entire The Washington Post article, written by Liz Clarke click here.