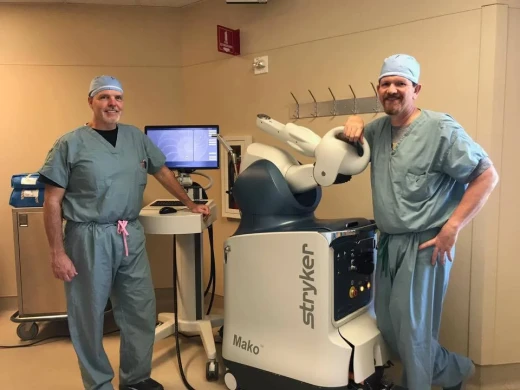 Birmingham Business Journal reporter, Laurel Thrailkill, interviewed Dr. K. David Moore to get his insight about robotic-assisted technology being a 'gamechanger' for total hip and total knee replacement patients.
Birmingham Business Journal
By Laurel THrailkill
Robotic-assisted surgery isn't a new concept, but it's one that's gaining momentum as it's being deployed in multiple fields. Birmingham surgeons are increasingly leveraging this technology to boost precision and improve outcomes for patients.
"I've been in practice doing hip and knee replacements for 26 years, and I think (robotic-assisted surgery) has been certainly one of the biggest game-changers that I've seen in this surgery over the course of my career," said Dr. K. David Moore, a joint replacement specialist at Andrews Sports Medicine and Orthopaedic Center.
Andrews Sports Medicine and Orthopaedic Center brought in Mako Robotic Surgery in 2017. The center's physicians have performed nearly 8,000 surgeries using robotic-assisted surgery technology.
"Not everything that's new is necessarily better, but this technology is..."
CLICK HERE to read the entire article.