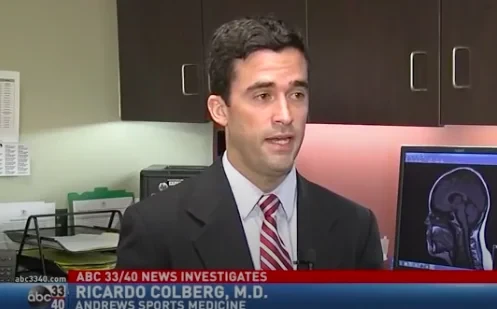 ABC 33/40
Ricardo E. Colberg, M.D. discusses the rise in concussions within girls soccer, as well as tips to lessen chances of having a concussion.

To view the entire ABC 33/40 investigative report, from Brian Pia click here.

About Ricardo E. Colberg, M.D.
Ricardo E. Colberg, M.D. is a sports medicine and non-operative orthopaedic physician at Andrews Sports Medicine & Orthopaedic Center in Birmingham, AL.

Dr. Colberg is Medical Director for the Jacksonville State University Gamecocks, and Head Team Physician for the Birmingham Blaze semi-pro football team, Birmingham Hammers semi-pro soccer team, Minor High School, Lawson State Community College, and the Alabama Soccer Association's Olympic Development Program (ODP).
To schedule an appointment with Dr. Colberg, call (205) 939-3699 and request to speak with Dr. Colberg's appointment scheduler.