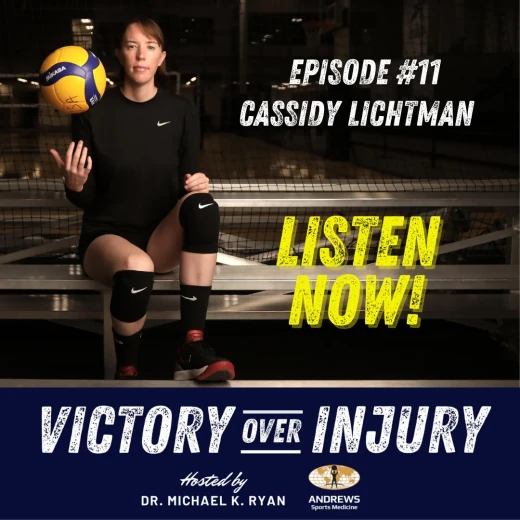 In episode #11 of the Victory Over Injury Podcast presented by Andrews Sports Medicine, Dr. Michael K. Ryan takes a special deep dive into the life, career and experience of Cassidy Lichtman, an incredibly accomplished individual, who has and continues to overcome pain, and who can shed light on how to persevere against overwhelming odds.
Cassidy is an extremely accomplished athlete, coach, and entrepreneur whose success could have easily been derailed early in life. Yet, she possesses a unique internal force that has allowed her to quiet and overcome a chronic struggle that continues to affect her daily life. By refusing to succumb to an atypical affiliation, and actively choosing to respond with grit, will, optimism and purpose, our guest was named Prep Volleyball High School Junior of the Year and elected to the San Diego Athletic Hall of Fame in 2005.

She was a four-year scholarship athlete on the Stanford University women's volleyball team, and was selected All-American First Team in 2009 and 2010, and First-Team Academic All-American in 2010. She competed on the U.S. Women's National Volleyball team from 2011 to 2016, making every roster in 2013 on her way to numerous international medals.
Cassidy took on coaching in 2016 as an assistant at Stanford and was part of the National Championship team that year. She founded "Play with Purpose" volleyball clinic, which supports the Ronald McDonald House, and recently launched P/ATH (Progress through Athletics) a platform that seeks to position the next generation of athletes for a better world through empathy and empowerment.
Be sure to follow "Victory Over Injury" wherever you listen to podcasts.
A special thank you to our producer, Ed Hill, and our intern, James Harris, UAB School of Medicine (Class of 2023) for helping make this podcast series possible.
Episode Notes
00:03:06 – Growing up in California
00:06:13 – Diagnosed with Complex Regional Pain Syndrome (CRPS) at age 9
00:08:54 – Determined to walk again
00:11:23 – Cassidy's chronic pain
00:14:55 – Complex Regional Pain Syndrome (CRPS)
00:20:40 – Coping with her chronic pain
00:28:27 – "You don't have to respond to pain"
00:30:30 – Mindfulness meditation
00:33:26 – Training for college volleyball
00:37:27 – Stanford vs Texas (2008)
00:40:38 – Professional volleyball career
00:45:21 – The U.S. National Team
00:47:15 – Return to coaching volleyball
00:48:44 – Career after volleyball
00:50:57 – The start of P/ATH
00:57:41 – Cassidy's return from retirement
01:00:19 – Perspective shift along her medical journey
01:09:28 – Cassidy's advice to injured athletes