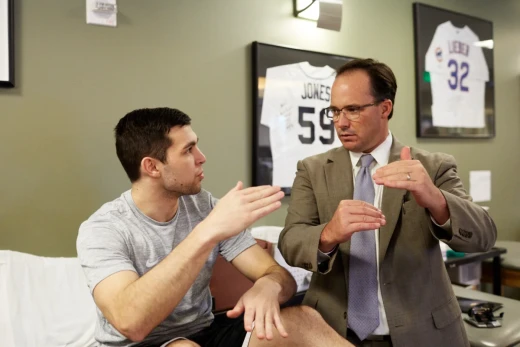 Birmingham Medical News
Nowhere is efficiency more important than in the practice of medicine. Orthopaedists at the Andrews Sports Medicine & Orthopaedic Center have embraced that philosophy through specialty care in its Hip Center.
Physicians at The Hip Center at Andrews Sports Medicine have embraced a comprehensive hip care concept where treatment is specialized for each patient. The treatment approach recognizes the variety of disorders, the diversity of the patient population, and the full spectrum of contemporary treatment options.
"There is a shift from general orthopaedic care, where one doctor takes care of all problems, to a more specialized model. Our vision was to create a concept that provides ultra-specialty care for our patients," says Benton Emblom, MD, an orthopaedic surgeon at The Hip Center at Andrews Sports Medicine. "We use a team approach to see patients, evaluate them, and treat them appropriately in a streamlined fashion."
The Hip Center physicians' priority is to establish an accurate diagnosis and to develop treatment plans that are customized to the diagnosis and precise needs of each patient. The physicians treat specific disorders which allows for specialized care.
"Our group reached a mutual understanding that has made this concept workable," Emblom says. "It is a one-stop shop for the hip that allows us to be more efficient and to foster superior outcomes."
Team members have the expertise to diagnose and deliver the full spectrum of both non-surgical and surgical solutions for hip injuries, disorders, and disease.
"Hip disorders are classified in two categories -non-arthritic/hip preservation and arthritic," Emblom says. "We want to foster a super specialty organization with the utmost experience in specific hip problems. We don't want to be 'just a hip guy.'
Drs. Benton Emblom and Michael Ryan concentrate their practice on non-arthritic/preservation hip injuries, disorders and diseases, while Drs. Jeffrey Davis, James Flanagan and David Moore focus on the arthritic hip, which is much more prevalent in the older population.
"Arthroscopy has been a great tool for..."
To read the entire Birmingham Medical News article, written by Ann DeBillis click here.