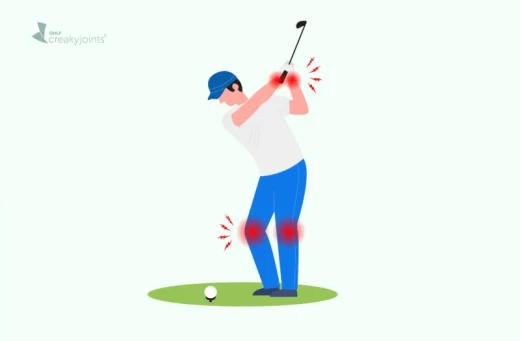 CreakyJoints.org reporter, Karyn Repinski, recently interviewed Dr. Jay Umarvadia to get his insight on how to enjoy playing golf while dealing with arthritis.
CreakyJoints.org
Protect your joints and maybe even shave some shots off your score with these doctor- and pro-recommended tips.
By Karyn Repinski
Nearly 25 million Americans play golf, but for those with arthritis, staying in the game can be a challenge. From swinging a club to walking the course, golf relies heavily on joint action — and few things affect your joints like arthritis. As a golfer with the condition, you're likely to experience stiffness in your arthritic joints, reduced range of motion, and achy hands and wrists.

Article Quote from Dr. Jay Umarvadia:
"If you have arthritis or degenerative joint disease, warming up is probably the most important thing you can do prior to playing golf," says Jay Umarvadia, MD, an Orthopaedic & Sports Medicine Physician at Andrews Sports Medicine & Orthopaedic Center in Birmingham, Alabama. "It helps maintain range of motion and reduces stress that can cause injury."

Experts recommend a 20-minute warm-up for people with arthritis. Here's the warm-up routine Dr. Umarvadia recommends:...
CLICK HERE to read the entire article.