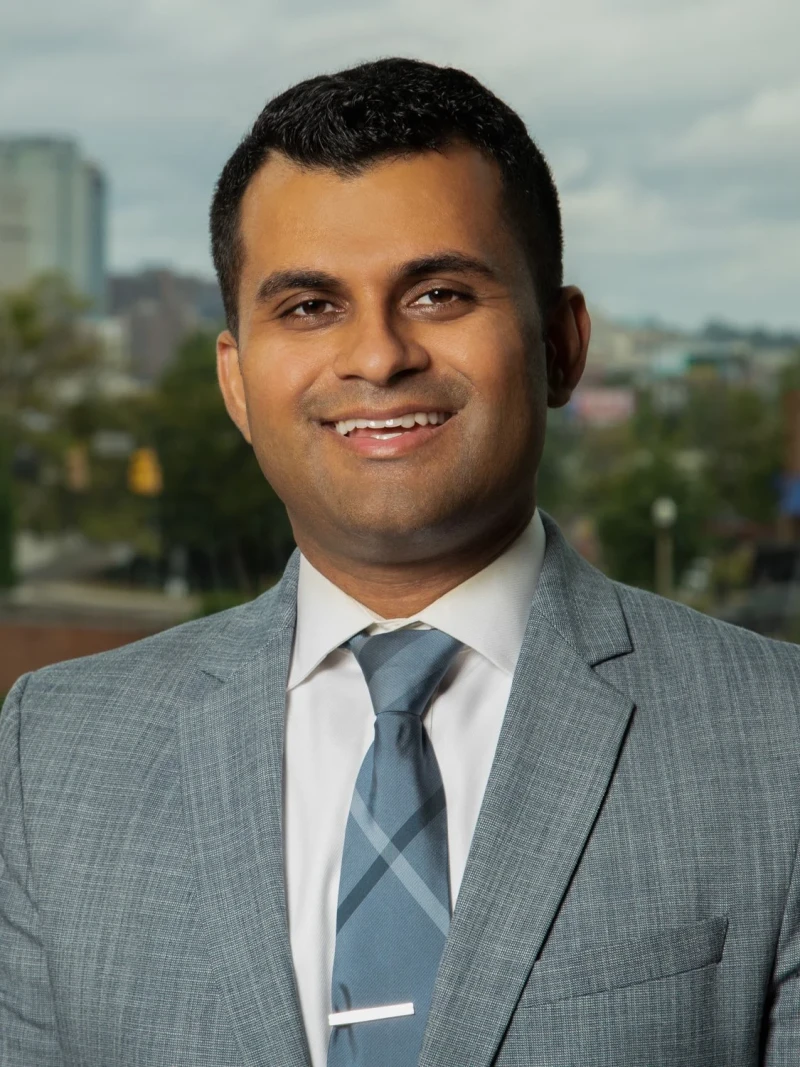 Jay S. Umarvadia, MD
Elbow, Foot & Ankle, Hand & Wrist, Hip, Knee, Shoulder, Sports Medicine
As a non-surgical sports medicine physician, Jay S. Umarvadia, MD treats all types of orthopaedic medical issues, including sports-related and non-sports-related injuries and osteoarthritis in joints.
"Dr. Jay" treats patients of all ages and all types of musculoskeletal injuries from sprains, strains, fractures and sports-related concussions. "Dr. Jay" Umarvadia treats patients at our Gardendale and Birmingham locations. In addition, "Dr. Jay" serves as a team physician for Jacksonville State University, Tuskegee University, Gardendale High School, Cordova High School, Corner High School, Dora High School, Hayden High School and Mortimer-Jordan High School.

A former baseball and basketball player growing up, Dr. Umarvadia has special interest in treating youth, adolescent, and collegiate athletes as well as weekend warriors. He performs various ultrasound-guided injections, including viscosupplementation for osteoarthritis of joints.
Dr. Umarvadia earned dual undergraduate degrees from Penn State University, an MBA in Healthcare Administration from Plymouth State University and medical degree from the American University of Antigua College of Medicine. He completed his post-graduate residency training at LSU Rural Family Medicine Residency in Bogalusa, Louisiana. While in residency, Dr. Umarvadia served as Chief Resident and was a founder of the Rural Bogalusa Sports Medicine Initiative, a program which provided free sports physicals and sideline sports coverage to rural Louisiana student athletes.
Following his LSU residency, Dr. Umarvadia was accepted into the American Sports Medicine Institute's (AMSI) sports medicine fellowship class and moved to Birmingham, AL. During his one-year fellowship, Dr. Umarvadia worked alongside Andrews Sports Medicine physicians and surgeons, receiving extensive training in the non-surgical treatment of sports-related and non-sports-related injuries and athletic coverage. During his fellowship, Dr. Umarvadia was assistant team physician for Samford University and Homewood High School. He also provided on-site medical coverage for the NCAA Wrestling Championships, SEC Baseball Tournament, AAC Track Championships, Birmingham Barons, the Mercedes Marathon and Alabama Ballet.
Dr. Umarvadia was born and raised in suburban Philadelphia, PA. He grew up an avid Eagles, Sixers, Phillies, Flyers, and Nittany Lions fan. Dr. Umarvadia and his wife, Unnati, have two young sons. In their free time, they enjoy spending time as a family, traveling and great food. He is fluent in Gujarati, Hindi and English.

Medical Training & Education
Comeback Stories
In July of 2018, our family was on vacation in Destin, Florida. We were on the beach enjoying ourselves when I tried to jump a "giant wave" and I awkwardly landed on my left ankle. As soon as my left ankle hit the sand I felt a pop on the outer edge of my ankle.

Learn More

Bridget Willis |

Adamsville, AL
Leadership in Athletics:

Jacksonville State University Athletics - Team Physician

Tuskegee University Athletics - Team Physician
Gardendale High School Athletics - Team Physician
Cleveland High School Athletics - Team Physician
Corner High School Athletics - Team Physician
Dora High School Athletics - Team Physician
Hayden High School Athletics - Team Physician
Mortimer-Jordan High School Athletics - Team Physician
North Jefferson Middle School Athletics - Team Physician