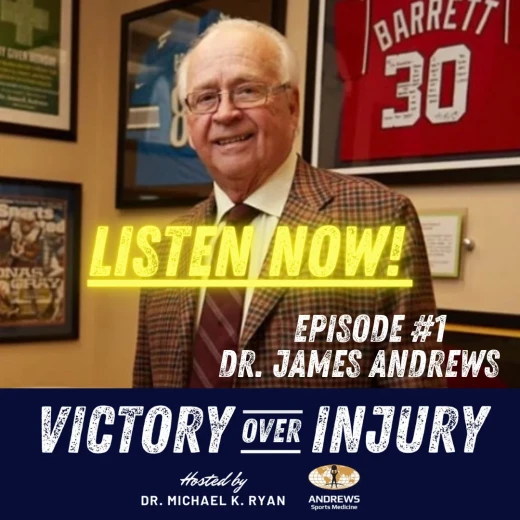 "I REMEMBER THAT NIGHT, I WAS COUNTING UP ON THE SUPER BOWL ROSTERS FOR THOSE TWO TEAMS AND I HAD 22 PLAYERS COMBINED ON THE COLTS AND SAINTS THAT I HAD OPERATED ON PLAYING IN THE SUPER BOWL, WHICH IS PRETTY AMAZING AND I SAID, "OH MY GOD, HOW DID I GET HERE?" – DR. JAMES R. ANDREWS
Andrews Sports Medicine's Victory Over Injury Podcast Series explores the depths and peels back the layers of the often overlooked and largely unknown side of sports medicine: INJURY - digging into recovery and the mindset it takes to achieve victory over injury.
In the premiere episode of Victory Over Injury presented by Andrews Sports Medicine, Dr. Michael K. Ryan takes a special deep dive into the life, career, experience, and wisdom of the world's most well-renowned orthopaedic surgeon, Dr. James Andrews.
Born from humble roots in small-town Louisiana, Dr. James Andrews followed familial influence to become a driven, innovative, energetic orthopaedic surgeon. He helped craft and define the modern team physician, and helped pioneer the biggest revolution in sports medicine history - arthroscopic surgery. His passionate investment in his relationships with athletic trainers, physical therapists, coaches, and athletes and their family members is unique and inspiring.
His influence in the sphere of sports medicine is vast, his impact immeasurable, and his congeniality unmatched. A living legend, an icon, a mentor, a godfather of sports medicine, and a humble orthopaedic surgeon...Dr. James Andrews.
Be sure to follow "Victory Over Injury" wherever you listen to podcasts.
A special thank you to our producer, Ed Hill, and our intern, James Harris, UAB School of Medicine (Class of 2023) for helping make this podcast series possible.
Episode Notes
00:04:50 – Growing up in Louisiana
00:11:10 – Keys to being a successful team physician
00:13:00 – Relationship with athletic trainers & physical therapists
00:15:20 – Compassion, communication & availability
00:16:38 – Importance of mentorship
00:21:47 – The early years in Columbus, Georgia
00:25:42 – Colleges currently covered by Andrews Sports Medicine
00:26:37 – Transitions in the field of sports medicine – open to arthroscopic procedures
00:29:20 – The move to Birmingham, Alabama
00:32:40 – Hiring of Drs. Lyle Cain, Jeff Dugas & Benton Emblom
00:34:34 – The move to Gulf Breeze, Florida
00:37:19 – Kevin Wilk, George McCluskey & Tab Blackburn - importance of physical therapists
00:40:30 – Treatment of Drew Brees
00:42:00 – Relationship with Coach Nick Saban
00:45:56 – New Orleans Saints
00:47:00 – Drew Brees, Peyton Manning & Super Bowl XLIV
00:48:05 – Development of his patient-care philosophy
01:01:27 – Family, longevity & legacy
01:04:32 – ASMI: youth sports injuries & prevention
01:13:00 – Tom Brady - importance of rest & being a multi-sport youth athlete
01:16:15 – Treatment of Roger Clemens
01:17:47 – Biggest failures & lessons learned
01:18:57 – Owning up to your mistakes
01:22:20 – Too many to count & not enough to quit
01:23:17 – Treatment of Jack Nicklaus
01:25:50 – Treatment of Adrian Peterson - return to play
01:28:51 – Biologics - the next revelation in sports medicine & orthopaedic surgery
01:33:10 – "Tarzen" helped me become an SEC pole vault champion at LSU
01:36:04 – Who is Dr. James Andrews?