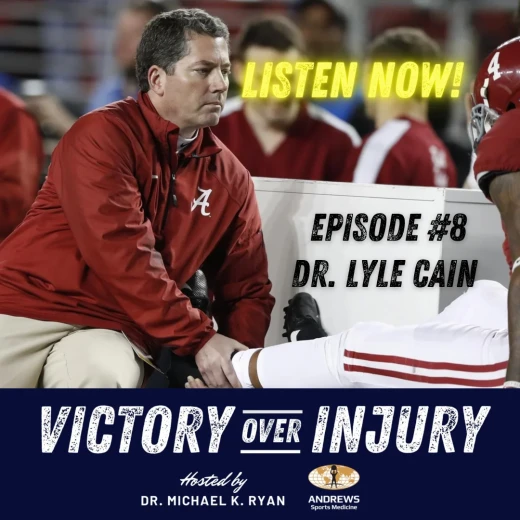 Andrews Sports Medicine's Victory Over Injury Podcast Series explores the depths and peels back the layers of the often overlooked and largely unknown side of sports medicine: INJURY - digging into recovery and the mindset it takes to achieve victory over injury.
In episode #8 of Victory Over Injury presented by Andrews Sports Medicine, Dr. Michael K. Ryan takes a special deep dive into the life, career and experience of Dr. Lyle Cain, co-founder and managing partner of Andrews Sports Medicine.
Dr. Cain is one of the most respected sports medicine specialists in the world, specializing in orthopaedic surgery of the knee, shoulder, and elbow. He has operated on all types of athletes at the highest levels of elite, Olympic and professional competition and is recognized as one of Major League Baseball's "Super Surgeons."
Dr. Cain has served as team orthopedic surgeon for The University of Alabama Athletics program since 2000, and was recently honored as the SEC's Team Physician of the Year.
He is also an orthopaedic consultant for Jacksonville State University, the University of West Alabama, Birmingham-Southern College and the Birmingham Barons (Chicago White Sox AA affiliate). A Birmingham, Alabama, native, Dr. Cain received his medical degree from The University of Alabama School of Medicine in 1994.
Dr. Cain serves on the board of trustees for the American Baseball Foundation and American Sports Medicine Institute, and is the fellowship director for the ASMI Orthopaedic Surgery Sports Medicine Fellowship. He is responsible for training sports medicine surgeons of the highest caliber. He is also on the Board of Directors of the American Orthopaedic Society for Sports Medicine (AOSSM).
Be sure to follow "Victory Over Injury" wherever you listen to podcasts.
A special thank you to our producer, Ed Hill, and our intern, James Harris, UAB School of Medicine (Class of 2023) for helping make this podcast series possible.
Episode Notes
00:03:30 – Growing up in Mountain Brook, AL
00:05:17 – Playing youth sports
00:07:00 – Pursuit of medical career
00:12:09 – Influences that led to a career in orthopaedic surgery
00:14:40 – Campbell Clinic residency
00:18:27 – Andrews Sports Medicine Fellowship
00:21:10 – Dr. James Andrews & Dr. Bill Clancy's influence
00:23:33 – Friendship with Dr. Jeff Dugas
00:24:43 – Staying in Birmingham, AL
00:26:08 – "You don't need to worry about that"
00:26:48 – Early years at Andrews Sports Medicine
00:29:20 – Listen to the patient
00:30:30 – Have a routine in surgery
00:31:04 – 1,000 tiny knives
00:33:15 – Pre-plan for all potential problems
00:34:30 – Nervousness vs. confidence
00:36:47 – The ones that didn't go well
00:38:45 – Drew Brees' "career-ending" injury
00:42:30 – Brees joins the Saints
00:44:17 – Becoming the Alabama Crimson Tide's team surgeon
00:47:04 – First meeting with Coach Nick Saban
00:51:00 – Working alongside Jeff Allen
00:53:54 – Medical staff as a recruiting tool
00:57:20 – Kenyan Drake
01:03:24 – Eddie Jackson
01:04:30 – Julio Jones
01:07:34 – Book answer is not always the answer
01:07:49 – Tua
01:08:57– Making sure it's snug
01:09:59 – Is Tua injury prone?
01:14:20 – Alabama sidelines experience with family
01:15:12 – 2018 CFP National Championship
01:16:55 – The Cain family
01:20:16 – Passion for turkey hunting
01:26:20 – Covid-19
01:31:00 – Catapult GPS system
01:35:02 – Interesting gifts from a patient
01:37:00 – Ryder Cup experience
01:39:55 – Power of positive thinking