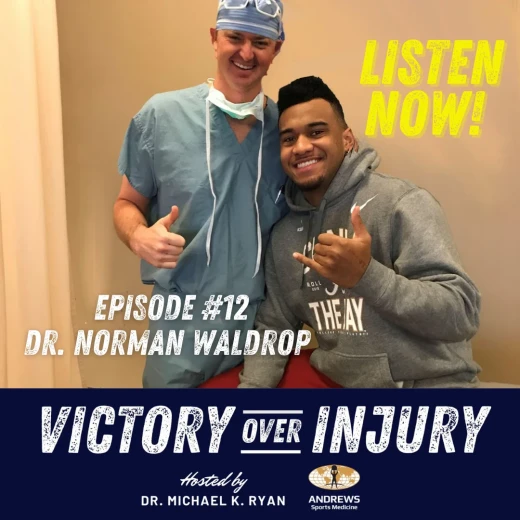 In episode #12 of the Victory Over Injury Podcast presented by Andrews Sports Medicine, Dr. Michael K. Ryan takes a special deep dive into the life, career and experience of Dr. Norman Waldrop, orthopaedic surgeon at Andrews Sports Medicine & Orthopaedic Center in Birmingham, Alabama.
From an early start in his career, Dr. Norman Waldrop has followed a course paved by few before him, but those who precede him have changed the course of treatment for foot and ankle injuries.
Dr. Waldrop has cultivated and deployed his knowledge and implemented his experience to become a force in the world of foot and ankle surgery, and in particular foot and ankle sports medicine.
He is a board-certified surgeon in foot and ankle surgery, a recipient of numerous academic awards and grants, has published book chapters and peer-reviewed articles, and is an educator and faculty member at the American Sports Medicine Institute, where he trains surgical and non-surgical fellows.
Dr. Waldrop is a crucial part of the medical teams for The University of Alabama, Jacksonville State University, Samford University, Troy University, Tuskegee University, the University of West Alabama, Birmingham-Southern College and Homewood High School.
He has surgically repaired some of the most famous ankles in recent history, including Kenyan Drake, Tua Tagovailoa, and Jaylen Waddle, to name a few.
An energetic innovator, brilliant surgeon, empathetic team physician, caring dad, exceptional athlete, and rising star. Without further ado and pleasure, Dr. Norman Waldrop.
Be sure to follow "Victory Over Injury" wherever you listen to podcasts.
A special thank you to our producer, Ed Hill, and our intern, James Harris, UAB School of Medicine (Class of 2023) for helping make this podcast series possible.
Episode Notes
00:04:00 – Tiger Woods accident, injuries & recovery
00:07:40 – Ankle & foot anatomy, including common injuries
00:11:19 – Growing up in Mobile, Alabama
00:13:40 – The impact of Coach Kemper Todd at UMS-Wright
00:15:15 – His parent's influence on his life
00:18:49 – Undergraduate years at the University of Virginia
00:23:25 – Medical school at UAB & meeting his wife
00:25:25 – Decision to pursue orthopaedic surgery
00:27:11 – Residency at Carolinas Medical Center (Charlotte, NC)
00:31:00 – Influence of OrthoCarolina's Dr. Hodges Davis, Dr. Robert 'Bob' Anderson & Dr. Carroll Jones
00:32:30 – Overview of foot & ankle surgeon sports medicine-focused sub-specialty
00:34:08 – Fellowship with Dr. Thomas Clanton in Vail, Colorado
00:37:28 – Treating Eddie Lacy & returning to Birmingham, Alabama
00:40:20 – Relationship with Kenyan Drake
00:48:55 – Tua Tagovailoa & treatment high ankle sprains
00:52:50 – Arthrex TightRope surgical procedure
00:55:50 – Management of high ankle sprains & indications for surgery
01:03:11 – Cartilage damage in high ankle sprains
01:04:57 – "This one is for the National Championship" – Dr. Lyle Cain
01:08:41 – Common "on-the-field" sports injuries
01:09:50 – Management of a ruptured Achilles tendon
01:13:58 – "Favorite" surgical procedure
01:15:06 – Arthroscopic management of ankle injuries
01:17:37 – Saving an LSU police officer's life
01:21:55 – Passion for coaching basketball
01:22:48 – "You stand on the shoulders of giants"