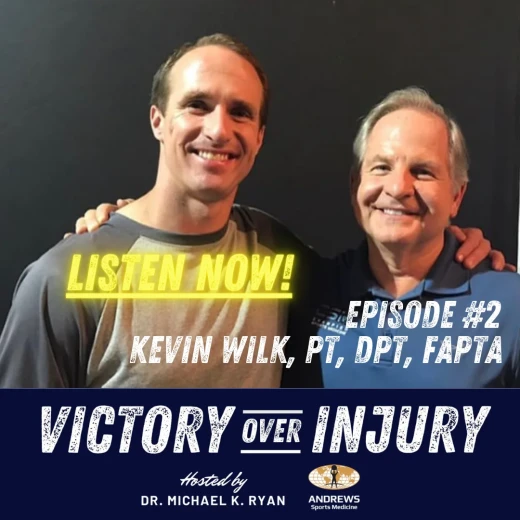 "An ACL back then was casted for six weeks. Again, that whole shift in treatment philosophy and application was happening, it was happening here in Birmingham. It was fun." – Kevin Wilk, PT, DPT, FAPTA

Andrews Sports Medicine's Victory Over Injury Podcast Series explores the depths and peels back the layers of the often overlooked and largely unknown side of sports medicine: INJURY - digging into recovery and the mindset it takes to achieve victory over injury.
In episode #2 of Victory Over Injury presented by Andrews Sports Medicine, Dr. Michael K. Ryan takes a special deep dive into the life, career, experience, and wisdom of one of the world's most-renowned physical therapists, Kevin Wilk.
Kevin Wilk, PT, DPT, FAPTA has led a distinguished career as a clinical physical therapist for the past 35 years. He is also an educator, researcher and leading authority in rehabilitation of sports injuries and orthopaedic lesions.
Kevin has worked with some the world's most famous athletes, including: Michael Jordan, Bo Jackson, Charles Barkley, Derek Jeter, Drew Brees, Triple H, John Cena, Scottie Pippen, Tom Watson, Roger Clemens, Mariano Rivera, John Smoltz and Eli Manning, to name a few.
We hope you truly enjoy this interview with the man recognized by many as one of the best physical therapists in the world.
Be sure to follow "Victory Over Injury" wherever you listen to podcasts.
A special thank you to our producer, Ed Hill, and our intern, James Harris, UAB School of Medicine (Class of 2023) for helping make this podcast series possible.
Episode Notes
00:04:00 - Growing up in Chicago
00:05:13 - Influences that guided him to physical therapy & sports medicine
00:09:34 - Education
00:11:25 - Meeting Dr. James Andrews & moving to Birmingham, AL
00:16:12 - Early years working with Dr. James Andrews
00:19:49 - The evolution of treating patients
00:24:15 - The psychology of sports-related injuries & recovery
00:30:00 - Perturbation training – developing & implementing new ideas in practice
00:37:00 - "The Tarzan Factor" – biggest mistakes of athletes during rehab
00:39:54 - Taking care of professional athletes
00:41:15 - Treatment of Jack Nicklaus
00:42:15 - Bo Jackson's hip injury
00:46:35 - Rehabilitation with Drew Brees
00:51:18 - Treatment of Jerry Pate
00:52:41 - Drew Brees is a practical joker
00:57:28 - Relationship with Willie Nelson
01:00:15 - Focusing on longevity - Tom Brady, LeBron James, John Smoltz
01:03:12 - Young athletes – the importance of time off & playing other sports
01:11:03 - Managing concussions
01:16:48 - Top 3 recommendations for general rehab & musculoskeletal health
01:22:20 - Work & life balance
01:25:16 - ASMI research & improving patient care
01:26:53 - Biggest failures & lessons learned
01:29:00 - A physical therapist's perspective on return-to-play
01:33:53 - Advancements in technology - GPS, sleeves & sensors in braces
01:37:50 - Future goals & legacy
1:40:12 - Favorite athlete as a kid?
1:41:15 - Parting wisdom