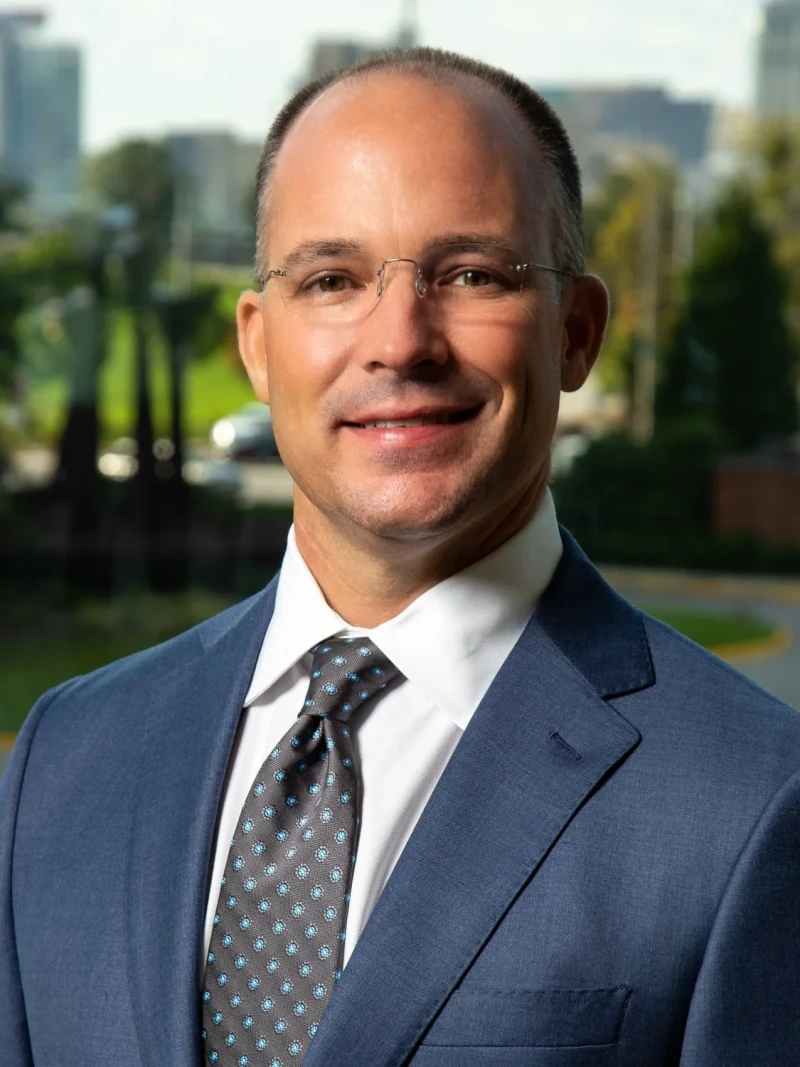 Benton A. Emblom, MD
Elbow, Hip, Joint Replacement, Knee, Shoulder, Sports Medicine
Benton A. Emblom, MD, specializes in sports medicine and arthroscopic treatment of the shoulder, elbow, hip and knee. He has subspecialty expertise in hip preservation surgery and hip reconstruction.
A summa cum laude graduate of the University of Alabama, Dr. Emblom earned a bachelor's degree in chemistry and mathematics. He received his medical degree from the University of Alabama School of Medicine and completed a residency in orthopaedic surgery at UAB Hospital. He then completed a one-year orthopaedic sports medicine fellowship with Dr. James Andrews at the American Sports Medicine Institute (ASMI). Following that, he completed additional training in hip arthroscopy with Dr. Thomas Byrd in Nashville, which provided focused training in arthroscopic and mini-open hip preservation surgery. Dr. Emblom's certification in robotics allows the most technologically-advanced option for active individuals with arthritic conditions.

Dr. Emblom is a member of the Andrews Sports Medicine & Orthopaedic Center in Birmingham, co-founder of The Hip Center at Andrews Sports Medicine, and board member of the American Sports Medicine Institute. He has also authored numerous research papers and book chapters on topics related to orthopaedics and sports medicine. Dr. Emblom actively performs clinical and biomechanical research at the American Sports Medicine Institute (ASMI).

Dr. Emblom holds a special passion for the field of sports medicine because he participated in several team sports throughout his childhood. One aspect of sports he admires most are the goals that a TEAM can accomplish TOGETHER. As a team physician for Auburn University, the University of Alabama, Samford University, and Hoover High School, Dr. Emblom is able to passionately play an integral role on the team of accomplishing a shared goal: to foster player safety and to facilitate safe return to play after an injury. Furthermore, maintaining a lasting active lifestyle is an area of interest for Dr. Emblom. After an injury at any level, an active state of mind often endures, however, physical challenges can ensue. Dr. Emblom's commitment to overcome these physical challenges for his athletes and patients is paramount.

Dr. Emblom's focus area in the hip provides a continuity of care from adolescent and young adult hip preservation surgery to reconstruction in the more advanced stages. Non-arthritic hip preservation surgeries would include arthroscopic treatment of femoroacetabular impingement (FAI), labrum repair/reconstruction, endoscopic gluteus medius and proximal hamstring repair, and mini-open treatment of core muscle injury (sports hernia).

Robotics have enabled Dr. Emblom to accurately and precisely restore hip mechanics in the setting of hip reconstruction (total hip replacement). He utilizes the direct anterior (DA) approach preserving muscle and tendon, allowing quicker recovery, and eliminating long-term movement and activity precautions. The Mako robotic-assisted platform creates a mini-GPS environment within the operating room. This 3-D mapping and positioning technology ensures unmatched accuracy relative to component sizing and positioning. Patient's leg length and muscle tensioning can be accurately restored maximizing pain relief and function.

Dr. Emblom's commonly performed arthroscopic and reconstructive procedures include: shoulder surgeries such as rotator cuff repair, instability and labral repair, and AC joint reconstruction; elbow surgeries such as ulnar collateral ligament reconstruction (Tommy John), distal biceps tendon repair, arthroscopic loose body removal, and tennis elbow release; knee surgeries such as ligament reconstruction (ACL, PCL, MCL, posterolateral corner), arthroscopic meniscus repair, and patella instability (MPFL reconstruction).

Dr. Emblom and his wife, Anna, have two sets of twins: fraternal girls, Ella and Camille, and identical boys, Lawton and Haston. In his spare time, he enjoys hunting, fishing, flying and spending time outdoors with his family.

Medical Training & Education
Leadership in Athletics
Auburn University Athletics, Team Physician
Samford University Athletics, Team Physician
University of Alabama Athletics, Team Physician
Auburn University Athletics, Team Physician
Hoover High School Athletics, Team Physician
Pell City High School Athletics, Team Physician
Moody High School Athletics, Team Physician
World Wrestling Entertainment, Hip Consultant