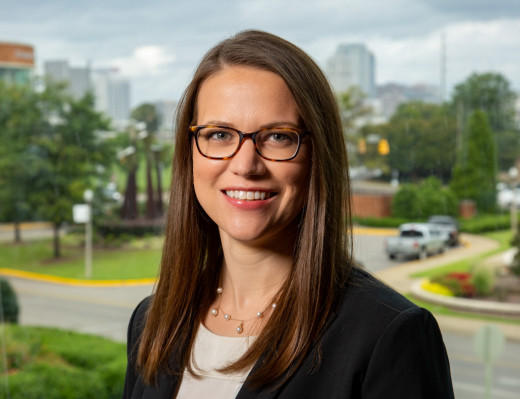 By: Taylor Riddle
In this edition of PA Spotlight, we introduce you to Amy Christensen, PA-C. Amy shares about striving to improve everyday as a healthcare provider, moving to Birmingham to attend her number one choice for PA school, and spending time with her husband, Dane, and their dog, Sasha.
Amy Christensen, PA-C
Amy works alongside Dr. Ricardo E. Colberg, to provide compassionate, efficient, and patient-centered care.
Amy is originally from Nashville, Tennessee, and she moved to Birmingham to attend UAB's Physician Assistant Program in 2012. She attended a mini-medical school in high school, where she found her love for medicine. She spent several years working in emergency medicine before joining Andrews Sports Medicine.
Amy enjoys being on the football sidelines on Friday nights, building relationships with athletes, and watching them return to play on the field after treatment. She loves spending time with her husband Dane, and their dog, Sasha.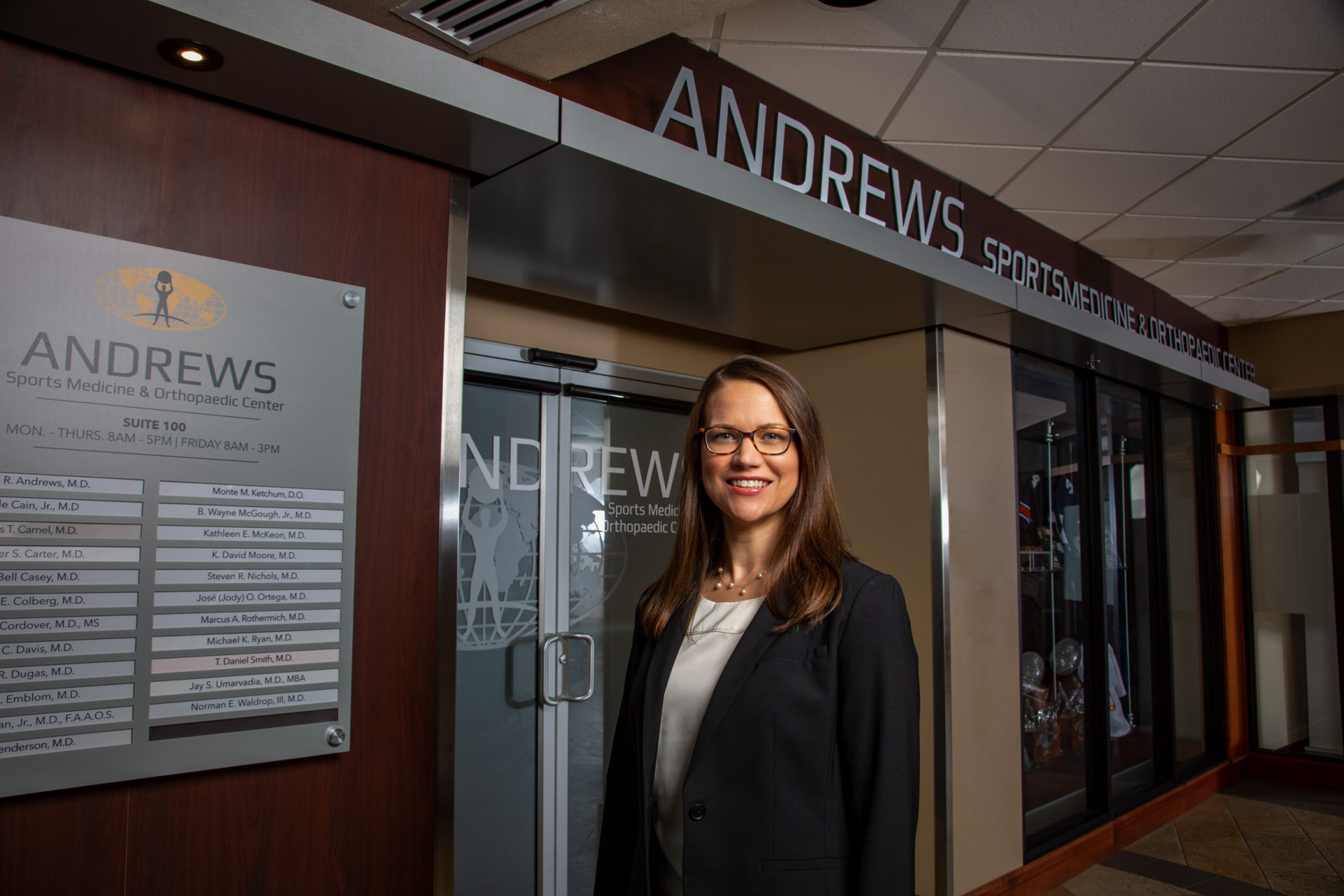 What do you enjoy most about your career?
I was drawn to the Physician Assistant profession because of the collaborative approach to patient care between the Physician and Physician Assistant. I enjoy putting my head together with my doctors to make a diagnosis and formulate the best treatment plan for the patient. I believe in the value of a team approach to patient care and that the role of the Physician Assistant significantly improves the patient experience and outcome.
Looking ahead to your career, what do you hope to continue to bring to Andrews Sports Medicine?
I want to continue to develop myself personally and professionally and never stop improving. I want to show up and offer my best to our patients and our team each day. My goal is to bring my undivided attention and focus to each patient encounter and to be a good team player.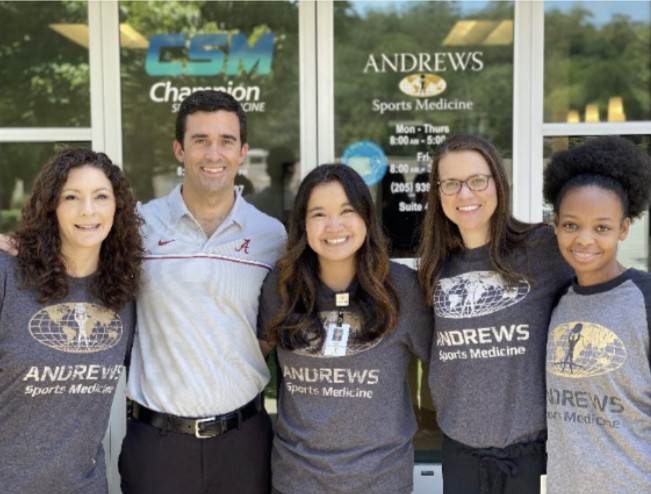 What do you like most about working alongside Dr. Colberg?
After almost 4 years of working together, Dr. Colberg and I have developed a strong collaborative relationship and have a lot of shared experience. I appreciate that he shares his knowledge with me and invests in my development as a provider. We work well together to keep clinic flowing. Dr. Colberg values all members of the healthcare team. Dr. Colberg's personality makes him easy to work with. He is calm, confident, decisive, unbiased and logical. He has strong ethics and values and he is always professional and respectful.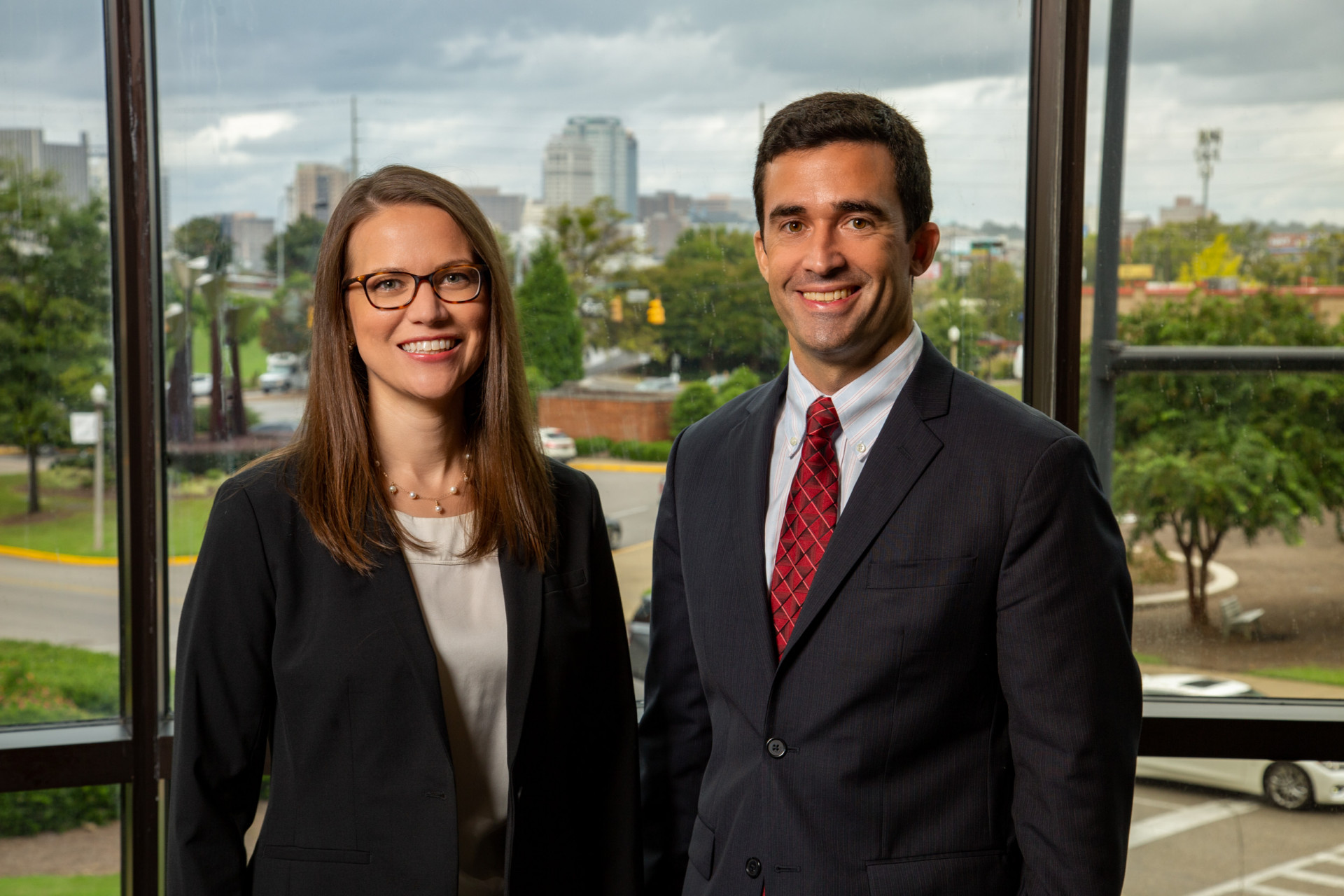 What do you like about the work culture at Andrews Sports Medicine?
I like that we are given autonomy to run our own clinics, but also have the support and resources of a big group. As a big group we have a lot of moving parts, but work cohesively across clinics and departments as a team.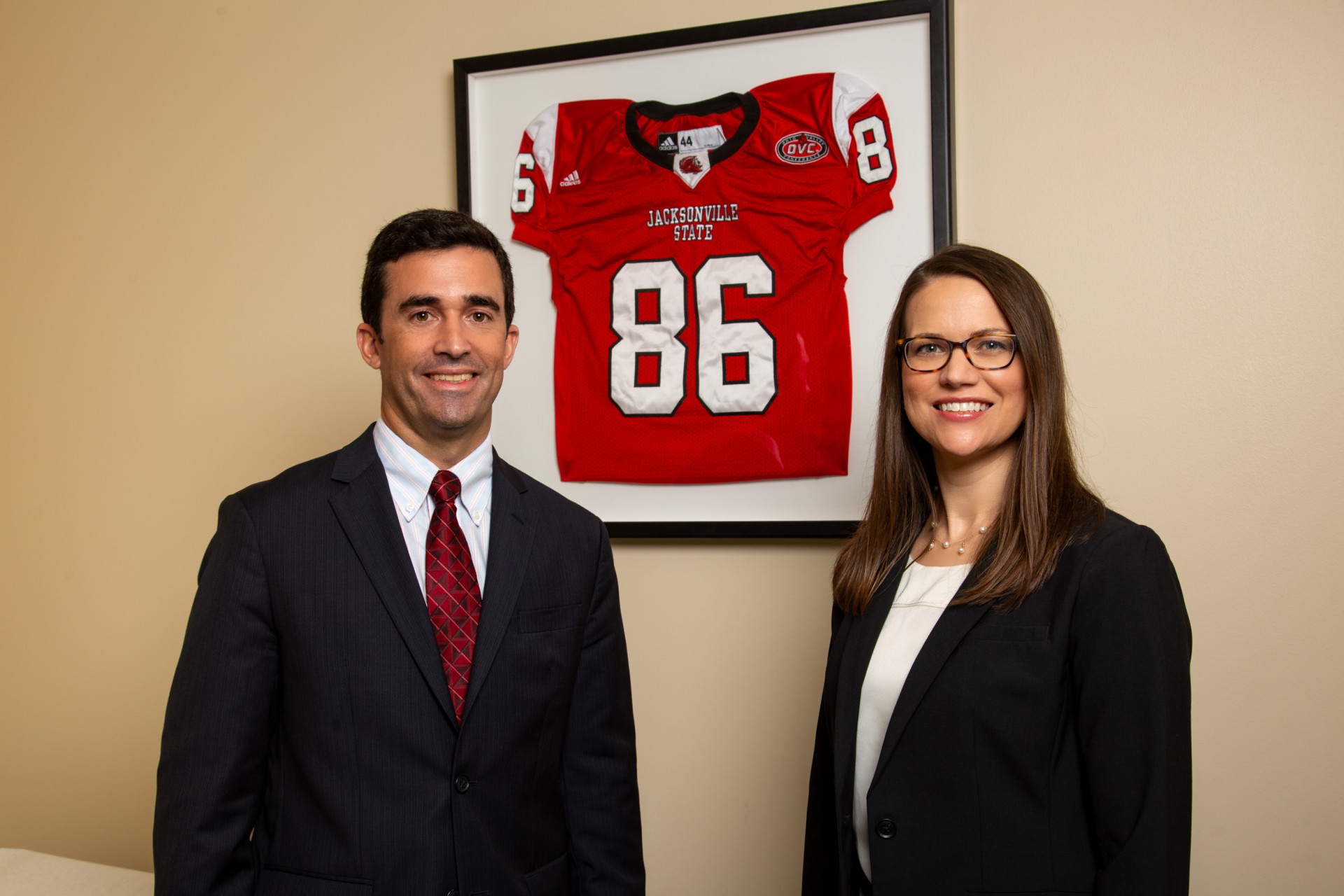 Do you have a mentor in the healthcare industry? If so, who and tell me about how they have helped you?
I have had many mentors since I began my career as a PA, including the doctors I have worked with and the faculty and my classmates at the UAB PA Program. However, my longest standing mentor is my dad. He worked several public service jobs including police officer, fireman and paramedic. He inspired me to go into healthcare and worked hard and made a lot of sacrifices to make sure I got the best education possible. He has supported and encouraged me every step of the way.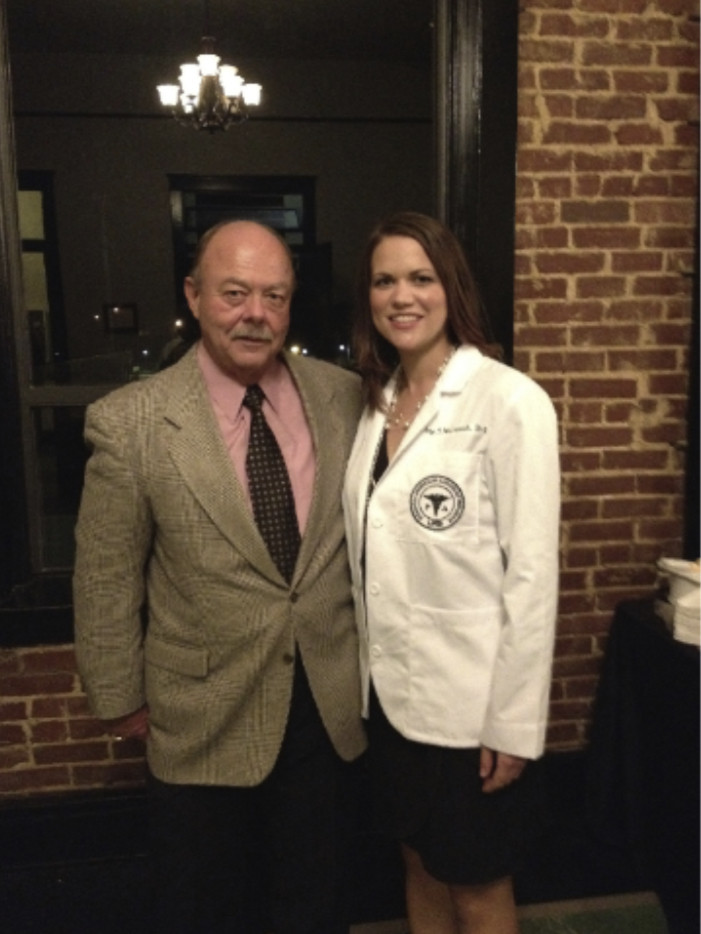 What do you like to do when you aren't working?
I enjoy lifting weights with my husband, Dane, and spending time with our dog Sasha. We enjoy outdoor activities such as kayaking, going to the dog park and walking in our neighborhood together. I love a good game night and we enjoy traveling. In my 20's and early 30's I was more adventurous but have since settled down and find the joy in the day-to-day routine.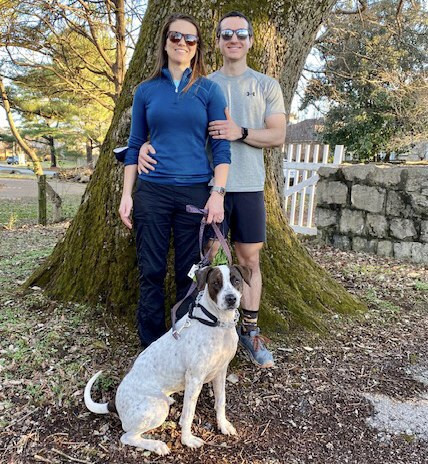 What is your favorite place to go in Birmingham?
Honestly, my favorite place to go is home. We absolutely love the community where we live.
Where do you and your family like to vacation?
Our favorite vacation spots are Sedona, Arizona and St. George Island, Florida. Prior to moving to Birmingham, I lived in Sedona for four years. Out of the 45 states I have been fortunate to visit, Sedona ranks in the top 3 most beautiful places I have ever seen and the weather is amazing. We also take a big family trip to St George Island every year. We pack about twenty family members into a big beach front house for a week-long session of corn hole tournaments, book reading, sunrise beach walks, family-style meals, card games and conversation. It's a can't-miss event, so much so we plan next years trip before the vacation even ends!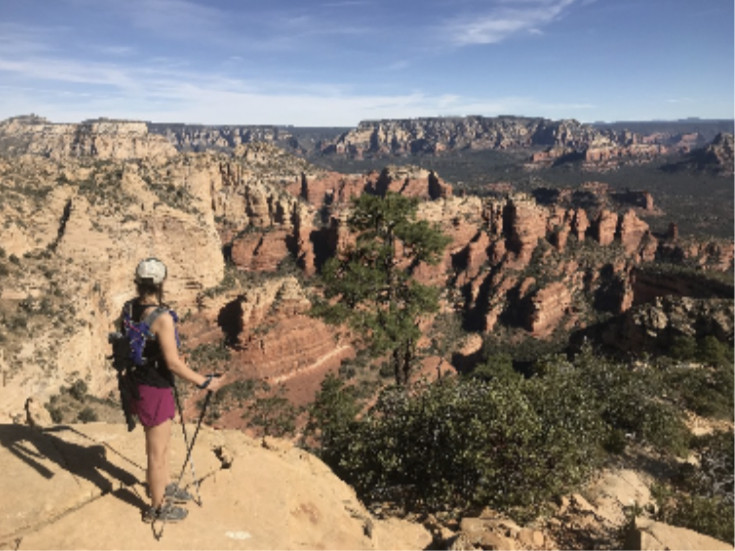 What drew you to the city of Birmingham?
When I first came to Birmingham, I was drawn to only one thing: The University of Alabama-Birmingham Surgical Physician Assistant Program, my number one choice for PA school. However, during my 27 months in PA school, I really fell in love with Birmingham and I knew I wanted to make Birmingham my home. In my opinion, Birmingham is the best kept secret in the south. We have great healthcare and education, beautiful outdoors, plenty of restaurants and shopping, wonderful people and we're only a few hours from the beach and mountains. What more could you want? I'm fortunate to have called Birmingham my home since 2012.