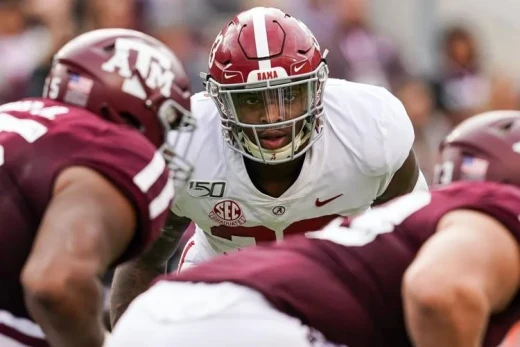 Tuscaloosa News
By Ben Jones
Alabama coach Nick Saban did not give an injury report on Monday. Alabama's injured players were back in action on Saturday. Linebackers Dylan Moses, Rashaan Evans and Anfernee Jennings all played.
Evans and Jennings missed the last two games. They were among the four linebackers that were lost to injury during the season opener against Florida State.
"It felt good," Jennings said. "I was probably anxious more than I've ever been. After the first hit I got, I was coming back down to earth and I knew I had to do my job and calm down."
Evans came back from a groin injury. Jennings had ankle surgery earlier this month. He began participating in practice last week before Alabama's game against Colorado State, and was back on the field less than three weeks after his surgery.
"It feels good," Jennings said. "It feels great. I had Jeremy (Gsell) and Jeff (Allen) and all those guys in the training room. They helped me get back to 100 percent in a short amount of time. I feel good."
To read the entire article, by the Tuscaloosa News' Ben Jones CLICK HERE.
"I can't take all the credit," Jennings said. "Our trainers and all them guys down there. They kept me up here. I rehabbed a lot. And I have to thank Dr. (Norman) Waldrop too. He did a good job."
About Norman E. Waldrop III, M.D.

Norman E. Waldrop, III, M.D. is a board-certified, fellowship-trained orthopaedic surgeon, who specializes in foot and ankle surgery. A large majority of Dr. Waldrop's time is dedicated to sports injuries, arthroscopy, and traumatic and post-traumatic conditions of the foot and ankle.
To schedule an appointment with Dr. Waldrop, call Andrews Sports Medicine & Orthopaedic Center at (205) 939.3699 and ask to speak with Dr. Waldrop's appointment scheduler.