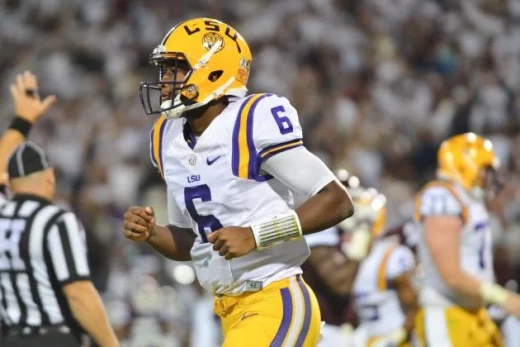 Bleacher Report
To read the full story, written by Joe Pantorno, click here.
LSU Tigers quarterback Brandon Harris is recovering after undergoing sports hernia surgery Monday, per Glenn Guilbeau of the Advertiser.
Harris Expected to Be 100 Percent for Spring Practice
"Just got out of surgery—five-hour process," Harris texted Guilbeau.
The sophomore played in pain during multiple games toward the end of the season, per Guilbeau.
In an offense that was dominated by Leonard Fournette, one of the best running backs in the nation, Harris' production dropped toward the end of the year. He completed less than 60 percent of his passes in five of his last six games, though he threw for 254 yards and a touchdown in the team's win over Texas Tech in the Texas Bowl.
Dr. Benton A. Emblom, who specializes in sports hernias at the Andrews Sports Medicine and Orthopaedic Center, told Guilbeau about the process of the surgery and the recovery process afterward:
We have a lot of athletes who can play with a sports hernia through the season before developing hard symptoms. They're treated with anti-inflammatory pills or injections and then have the surgery after the season. Rarely, do we have a surgery during the season. They play through it, but it can be painful. It's a partial tear of the muscle, and it hurts when they try to explode when running.
Harris will return to LSU next year with Fournette at running back as well as another year of experience under head coach Les Miles. Harris being fully healthy in time for spring practice would bode well for the Tigers in 2016.