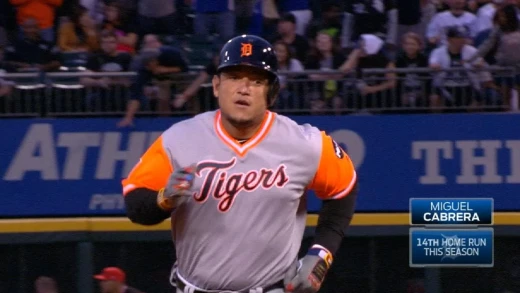 Tigers slugger hoping to cure pain from herniated disks with physical therapy

WRITTEN BY LINDSAY BERRA
Prior to 2017, Tigers slugger Miguel Cabrera had a baseball swing kids and big leaguers alike wanted to emulate. His batting average was higher than .310 in eight consecutive seasons, from 2009-16, and led the American League in four of those seasons. Then, in 2017, it was painful to watch Cabrera struggle to a .249 mark. But not nearly as painful as it was for Cabrera to swing the bat.
In late September, the 34-year-old Cabrera, who had dealt with pain since the World Baseball Classic in March, was diagnosed with two herniated disks in his lumbar spine, between his L3 and L4, and L4 and L5 vertebrae. Then, he finally opened up about the back, hip and leg pain that had been plaguing him all season.
"This has bothered me since Spring Training," he said in September. "It's been bothering me all year. At some points I was feeling good, and at some points I feel I can't go anymore. I need to change a lot of things this...
To view the complete MLB.com article, including detailed insight from Dr. Andrew Cordover, CLICK HERE.