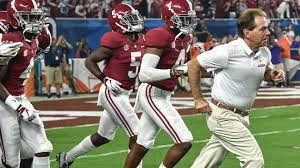 ESPN
Chris Low, Alex Scarborough, Mark Schlabach
Terry Saban thought she had her husband all settled in last Tuesday, less than 24 hours after his hip replacement surgery. She thought she had enough time to run a few errands while he dozed in his recliner all hooked up to his ice machine.
She admits now that she thought wrong.
Miss Terry, as Alabama's five-time national championship coach Nick Saban fondly refers to his wife of more than 40 years, returned home only to find,...
CLICK HERE to read the complete ESPN article.