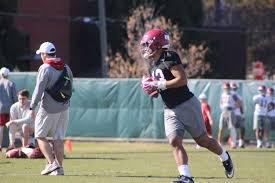 Dr. Lyle Cain Radio Interview Smashmouth Radio's Scott Griffin
Even in practice, injuries can happen. And this spring has been no different as the Tide has had some major players get hurt.
While some players, such as Tua Tagovailoa, suffered minor issues and are back in practice, some aren't so lucky. Jerry Jeudy suffered a major injury and is out for the rest of spring practice. So how does the Tide manage injured players?
To see how the Tide is handling the injuries, Scott Griffin of Smashmouth Radio welcomes Dr. Lyle Cain to the program. What does the Tide do in cases of injured players?
To listen to Scott Griffin's entire radio with Dr. Lyle Cain CLICK HERE.