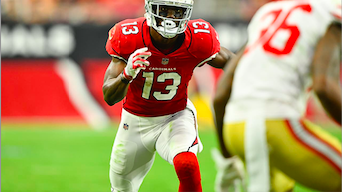 Thank you to Arizona Cardinals writer, Kyle Odegard, for asking Dr. Lyle Cain to share his insight on the latest advancements of ACL recover.
Written by Adam Odegard
Markus Golden normally does everything full speed, from his ceaseless chasing of quarterbacks to the passionate way he speaks.

So it was jarring to see the Cardinals' outside linebacker on Wednesday morning, slowly making his way down a ramp at the team's practice facility with the aid of crutches. Golden was headed to the team's training room, which will be his second home over the next several months as he starts the path to recovery from a torn anterior cruciate ligament.

But while the first major injury of his life was undoubtedly a blow, Golden was already preaching a forward-facing message: Don't feel sorry for me, man. I'll be back.

A torn ACL is still one of the worst injuries elite athletes face, because it immediately ends their season and results in an arduous rehabilitation process. But nowadays, players know they will return the next year, often playing...
To view the complete story on the Arizona Cardinals website, CLICK HERE.
E. Lyle Cain, Jr., M.D. quotes within article
Advancements in ACL recovery have been steady over the decades, but according to Dr. Lyle Cain, an orthopedic surgeon in Birmingham, Ala., there have been breakthroughs in the past few years. A major one came when doctors determined physical rehabilitation could begin the day after surgery. Previously, it was delayed over concerns movement would affect the graft.

"The standard used to be to wait and immobilize for several weeks before therapy," Cain said. "This changed the game."

Another development was a method called blood flow restriction therapy in which Cain said a tourniquet-like device is used to block an outflow of blood from the leg, but still allows inflow.

"The leg kind of gets engorged," Cain said. "It's like when you wrap your finger and it gets purple. Then you exercise. The leg fatigues and it hypertrophies at a much higher rate."