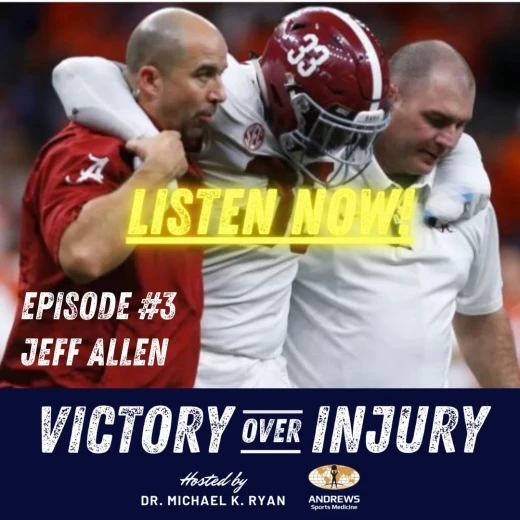 Andrews Sports Medicine's Victory Over Injury Podcast Series explores the depths and peels back the layers of the often overlooked and largely unknown side of sports medicine: INJURY - digging into recovery and the mindset it takes to achieve victory over injury.
In episode #3 of Victory Over Injury presented by Andrews Sports Medicine, Dr. Michael K. Ryan takes a special deep dive into the life, career, experience, and wisdom of one of college athletic's most respected athletic trainers, Jeff Allen.
Jeff Allen is the Associate Athletics Director, Sports Medicine for the University of Alabama and Head Athletic Trainer for the championship Alabama Crimson Tide football team under Coach Nick Saban.
Since his arrival in Tuscaloosa, Alabama in 2007, Jeff has been essential to the success of the six-time SEC and five-time national champion football team, keeping its players healthy and facilitating their efficient, but safe return to play.
Jeff is trusted, respected, and admired by players who recognize him as vital to the team's success. He is a highly revered and profoundly respected educator of prospective young athletic trainers, and has been called "The Godfather of Athletic Training" by his students and mentees.
Throughout his career, Jeff has been a featured speaker at numerous national conferences, published numerous articles in peer reviewed journals, and invented a revolutionary sideline medical tent now seen on nearly every college
and professional football sideline.
He is the recipient of numerous awards, including the Alabama Athletic Trainers' Association (ALATA) 2019 Collegiate Athletic Trainer of the Year, the James R. Andrews Award for Excellence in Football, and the National Head Athletic Trainer of the year in 2018 awarded by the National Athletic Training Association.
Be sure to follow "Victory Over Injury" wherever you listen to podcasts.
A special thank you to our producer, Ed Hill, and our intern, James Harris, UAB School of Medicine (Class of 2023) for helping make this podcast series possible.
00:03:30

–

Growing up in Kennesaw, GA

00:08:24 – Education & key relationships

00:18:46

–

Relationship with Chris Hatcher (Samford Bulldogs football coach)
00:21:02

–

Early career: University of Tennesee-Chattanooga, University of Central Florida

00:24:34 – Hired by Nick Saban at the University of Alabama

00:00:00 – Importance of family

00:35:20

–

Relationship with Coach Nick Saban
00:42:32

–

Leadership as the head athletic trainer
00:50:20

–

Relationship with Kenyan Drake
00:55:02

–

Relationship with Shaun Dion Hamilton

01:00:54 – Return-to-play after injuries

01:06:26

–

SidelinER and the entrepreneurial mindset
01:08:50

–

Locker room pranks
01:11:31

–

Julio Jones
01:15:07

–

Failures & lessons learned

01:17:44

–

Alternative career path

01:19:02

–

"Relationships don't have an ego & serve others"

01:21:00

–

Medical care & recruiting at Alabama

01:26:08

–

Family
00:00:00

–

Who is Jeff Allen?