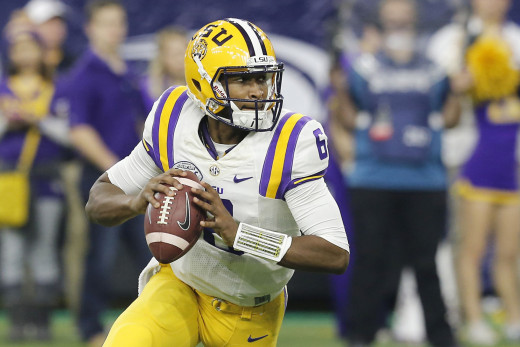 WWL.com
BATON ROUGE – LSU quarterback Brandon Harris had surgery for a sports hernia on Monday morning and expects to be 100 percent for the start of spring practice in March.
"Just got out of surgery – five-hour process," Harris texted to Gannett Louisiana just after 2 p.m. Monday.
Harris, a sophomore from Bossier City who started all 12 games for the Tigers in 2015, played in pain late in the season as the sports hernia, which is best described as a core muscle injury in the abdomen and/or groin areas, worsened.
"I'm sure a quarterback who plays on the run like he does did experience quite a bit of pain and discomfort with cuts at a high speed in a split second as the season went on," said Dr. Benton A. Emblom of the Andrews Sports Medicine and Orthopaedic Center in Birmingham, Ala., that was started by LSU graduate and orthopaedic surgeon James Andrews.
"He must be a tough SOB," LSU senior guard Keith Hornsby told reporters at a press conference Monday leading into Tuesday night's basketball game between LSU and No. 9 Kentucky. Hornsby missed LSU's first seven games of the season with a sports hernia.
"We have a lot of athletes who can play with a sports hernia through the season before developing hard symptoms," said Emblom, who specializes in sports hernia surgery. "They're treated with anti-inflammatory pills or injections and then have the surgery after the season. Rarely, do we have a surgery during the season. They play through it, but it can be painful. It's a partial tear of the muscle, and it hurts when they try to explode when running."
Harris was unclear when he first suffered the injury.
"It's something minor, and I have to go get it taken care of now that the season is over," Harris said in a phone interview Sunday. "It's nothing serious, but I've had it for a long time. It's been nagging at me for a while. So, this is the perfect time to take care of it. It's a minor procedure."
LSU sports information director Michael Bonnette confirmed that Harris would be having the surgery Monday, but he said he was "not sure" when Harris first started suffering from the injury.
Sports hernia surgery repairs the disrupted tissue near the abdomen and groin and rebalances it," Emblom said.
"It's going to keep me out about six to eight weeks with the rehabilitation," Harris said.
Patients generally wear crutches for about a day before being able to walk freely, Emblom said.
"They can start running and working on the treadmill a few days after the procedure," he said. "A college athlete with all the resources for rehabilitation at their disposal can usually get back to where they can play in four to six weeks."
Harris was clearly not exploding when running during warm-ups before the Texas Bowl on Dec. 29 in Houston. He was running gingerly before the game, but he completed 14 of 23 passes for 261 yards and a touchdown and rushed three times for 41 yards in the Tigers' 56-27 win. He scored on a 26-yard run late in the third quarter for a 42-20 lead.
Some reports have said Harris first suffered the injury against Alabama on Nov. 7, but neither Harris nor Bonnette confirmed that. Harris had his worst passing game of the season at Alabama, completing 6 of 19 passes for 128 yards with an interception and a touchdown while getting sacked twice. But that was against a team that is currently No. 2 in the nation in total defense with 256.8 yards allowed a game and preparing to play Clemson for the national championship. Harris entered the Alabama game No. 2 in the Southeastern Conference and No. 17 nationally in passing efficiency with a 153.9 rating.
Harris' injury did not stop LSU coach Les Miles and offensive coordinator Cam Cameron from calling his number. LSU passed more times than it ran for the first time in two seasons on Nov. 14 against Arkansas as Harris completed 21 of 35 passes for 271 yards with a touchdown and an...
TO READ THE FULL ARTICLE, WRITTEN BY GLENN GUILBEAU, CLICK HERE.