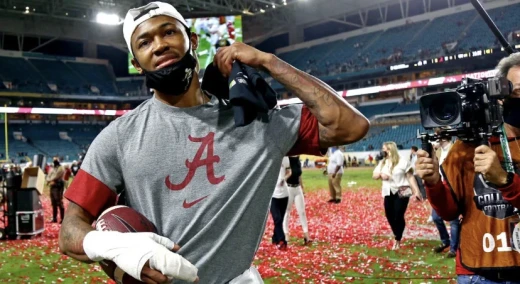 Thank you to SI.com's Ross Dellenger for interviewing Dr. Lyle Cain to get his depth insight from the Alabama Crimson Tide's 52-24 victory over the Ohio State Buckeyes to win the 2021 CFP National Championship. The Sports Illustrated article published online January 15, 2021.
Sports Illustrated
Written by Ross Dellenger
As Alabama team doctor Lyle Cain was trying to fix DeVonta Smith's dislocated finger, this sideline medical tent was the focus of national intrigue.
Lyle Cain had sweated through everything he owned.
His hands, in fact, were so sweaty that Alabama's team doctor was having trouble doing his job, which, at the time, was to slip DeVonta Smith's dislocated right index finger back into its joint. Cain's hands were wet enough that he needed gloves, but in this small, stuffy, inflatable medical tent erected on the Crimson Tide's sideline, there existed only one pair of gloves—the ones Smith wore to catch 12 passes for 215 yards and three touchdowns in the first half of the national championship game.
"Here," Smith, in immense pain, his finger dangling out of its joint, told Cain, "use mine."
As all this was happening, the sideline medical tent was the...
CLICK HERE to read the complete SI.com article.