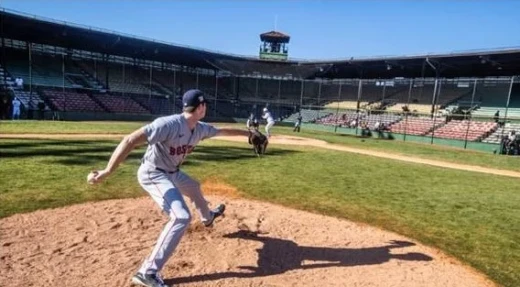 The Boston Globe's associate sports editor, Stan Grossfeld, visited Birmingham in February, 2022 and spent a few days hanging out with Boston Red Sox pitcher, Garrett Whitlock.

In the profile story, Mr. Grossfeld shares details about Garrett's time growing up in Georgia, pitching collegiately for UAB, training at Tinsley Performance during the MLB lockout, and how his recovery journey from Tommy John surgery saved his life and helped him grow in both his faith and compassion.
The Boston Globe
By Stan Grossfeld
Insert from article:

Weeks later, his arm ached, and he had Tommy John surgery performed by Dr. Jeffrey Dugas at the Andrews Sports Medicine and Orthopaedic Center in Birmingham on July 25, 2019.
His surgery was unusual because he had bone where there should have been ligament. Dugas told him he would have to meet the hurdles of recovery one by one.
"He was very humble and willing to take the necessary steps," Dugas said. "As a person and as an athlete, I think he's the whole package. He's an incredibly well-adjusted, very mature athlete, and he's a fighter. There aren't too many athletes that have his potential that aren't blinded by that big stage."
It also gave him time to reflect.
"Tommy John [surgery] saved my life," says Whitlock...
CLICK HERE to read the cover story.