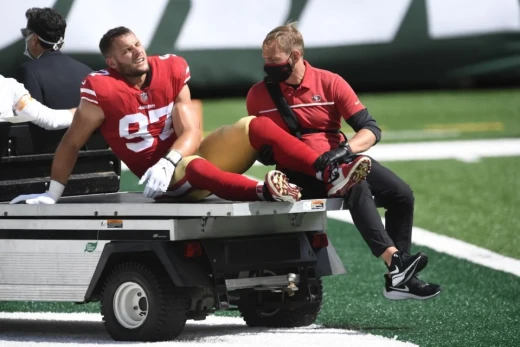 Thanks to YahooSports.com's Eric Edholm for sharing Dr. Lyle Cain's insight on the rash of injuries in the NFL. The YahooSports.com's article published online October 30, 2020.
Yahoo Sports
Written by Eric Edholm
Week 2 in the NFL was a bloodbath from an injury-standpoint.
Among the big-name players who went down included Carolina Panthers running back Christian McCaffrey (ankle), New York Giants running back Saquon Barkley (ACL), Seattle Seahawks defensive end Bruce Irvin (ACL) and Denver Broncos wide receiver Courtland Sutton (ACL).
In addition, the San Francisco 49ers were hit particularly hard that week. Quarterback Jimmy Garoppolo (high-ankle sprain), Pro Bowl defensive end Nick Bosa (ACL), running back Raheem Mostert (high-ankle sprain) and others in their victory over the New York Jets.
Injuries, of course, are an every-season occurrence. And early-season injuries — especially with specific types of injuries — are more
CLICK HERE to read the complete YahooSports.com article.