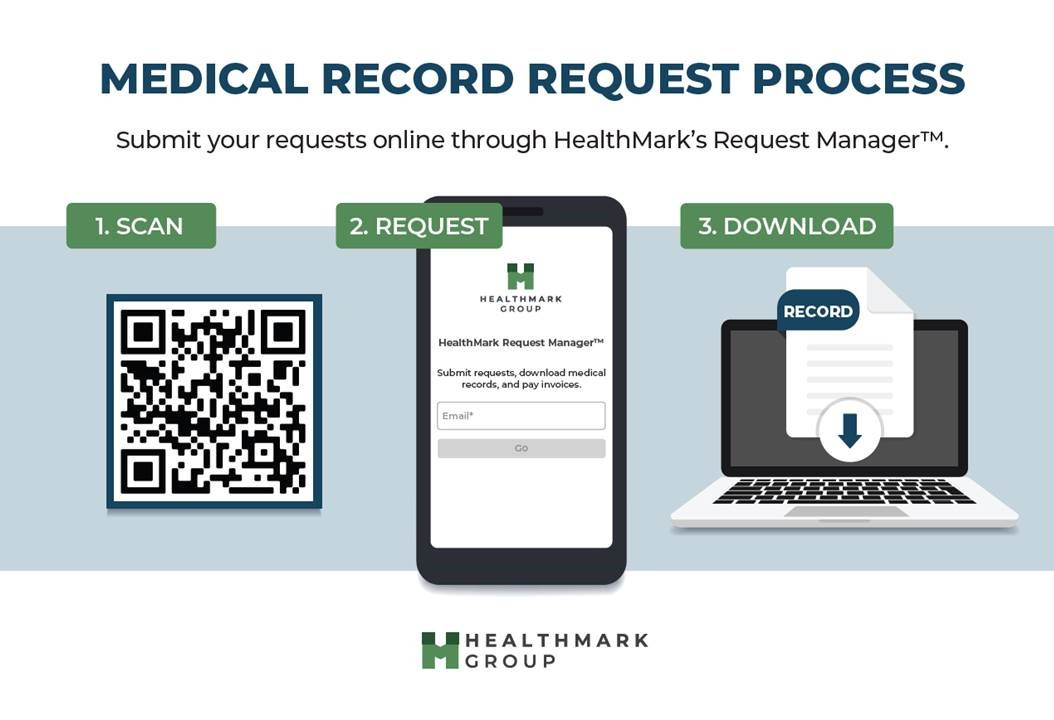 Get started today
Visit https://requestmanager.healthm... OR Scan the above QR code.
contact healthmark group
Call: 800-659-4035
Email: status@healthmark-group.com
Hours: Mon - Fri, 8AM - 5PM CST
Status updates are sent via email and you will be notified once your records are ready for download.

It is an approximately 3 to 5 business day wait on ALL medical records requests.

Medical records requests are processed in the order they are received.
Requirements
Ages 18 or older MUST SIGN THE FORM.
Under 18, Legal guardian must sign for the patient.
Form must be filled out completely. Provide an accurate fax number or an accurate address.
Charges/Fees For Medical Records
There is no charge for written medical reports.
If you need an X-Ray CD it is a $5.00 charge.
(a) Must be paid BEFORE we order X-Ray CD
(b) X-Ray CD must be mailed; therefore, we need an accurate address on the release form that indicates where to send your records.
---
Disability, FMLA & Claim Forms
It is an approximately 7 to 10 BUSINESS day wait on ALL forms to be completed by the doctor.
ALL forms must be paid for BEFORE we can send them.
There is a $30.00 charge for each form.
Payment can be made by mail, online at the "Pay Your Bill" icon, in-person at Andrews Sports Medicine, or over the phone.
If you have questions, call (205)-939-3699 and ask for "Medical Records" or email Crystal "Cricket" Harcrow at crystal.harcrow@andrewssm.com