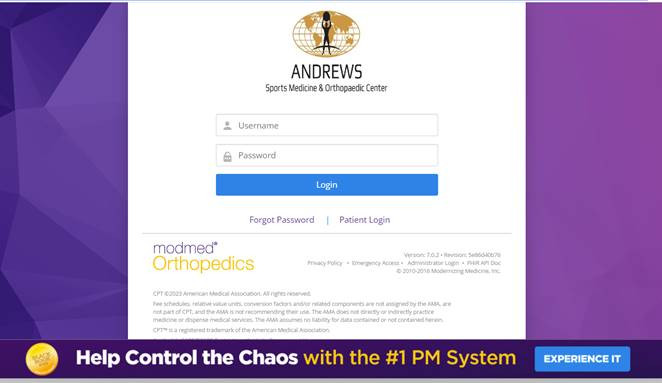 PARDON US WHILE WE IMPROVE YOUR VISIT

In an effort to provide you with the most efficient visit possible, we have upgraded our technology and are currently implementing a new EMR (Emergency Medical Records) and Patient Portal System.
Effective February 1, 2023 prior to all patient appointments, we were requiring all patients to login to our Andrews Sports Medicine Patient Portal, ModMed, to complete their registration & medical history prior to their office visit.

If your appointment is less than 3 days away and you are missing a patient portal invite from us, call us at (205) 314-2597 and we'll assist you accordingly.

This new technology enables Andrews Sports Medicine to provide you even more convenient care, and ensures that your records will hold more accurate documentation in a safer, more concisely stored location.
During this transitional time, we are asking all of our patients to….
PLEASE:
Arrive no later than 30 minutes prior to your scheduled appointment
Allow extra time for your appointment
Be patient with our doctors & team members, as we are all currently training with this system
THANK YOU in advance for your cooperation & understanding as we transition to
this new phase of Andrews Sports Medicine.