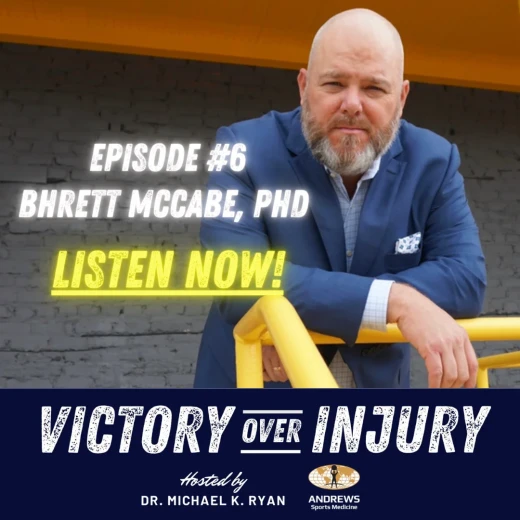 Andrews Sports Medicine's Victory Over Injury Podcast Series explores the depths and peels back the layers of the often overlooked and largely unknown side of sports medicine: INJURY - digging into recovery and the mindset it takes to achieve victory over injury.
In episode #6 of Victory Over Injury presented by Andrews Sports Medicine, Dr. Michael K. Ryan takes a special deep dive into the life, career and experience of Bhrett McCabe, PhD, a clinical & sports psychologist.
Bhrett McCabe, PhD combines his championship experience as an athlete with his clinical training as a psychologist to help competitors break free from their patterns of struggle and create winning solutions on their playing fields.
Dr. McCabe is a speaker and author, and the consulting sports psychologist at the University of Alabama, and other schools, working with all teams and coaching staff. He also works extensively with professional athletes including 12+ PGA and LPGA Tour players whose rankings have reached #1 in the world, as well as with numerous Fortune 500 companies and organizations.
As a licensed clinical and sports psychologist and founder of The MindSide, Dr. McCabe's performance consulting organization in Birmingham, Alabama, Dr. McCabe holds a Ph.D. degree in Clinical Psychology from Louisiana State University and completed his 12-month psychology internship at the Clinical Psychology Training Consortium associated with the Warren Alpert Brown Medical School in Providence, RI. Upon completion of his training, Dr. McCabe worked in the corporate sector, conducting research, developing medical strategy initiatives, and enhancing thought leader development and collaboration within the pharmaceutical industry.
Be sure to follow "Victory Over Injury" wherever you listen to podcasts.
A special thank you to our producer, Ed Hill, and our intern, James Harris, UAB School of Medicine (Class of 2023) for helping make this podcast series possible.
00:03:50 – Growing up in a military family
00:15:14 – Managing anxiety & pursuing a career in psychology
00:23:40 – Playing collegiate baseball at LSU
00:36:07 – Coach Skip Bertman changing Bhrett's mindset
00:47:57 – Lisa Jo Pate - Bhrett's mentor
00:50:17 – Beginning of a career
00:56:24 – Transition from corporate pharma to sports psychology
01:01:33 – Early years in sports psychology
01:04:03 – PGA Tour golfer, Graeme McDowell
01:08:15 – Starting a new business & early failures
01:11:54 – Bhrett's stages of injuries
01:25:00 – Mental aspect of an injury
01:30:08 – Kenyan Drake's incredible response to injury
01:35:12 – Confidence in athletes
01:59:00 – Impact of social media
01:54:27 – Importance of sleep
01:59:00 – Impact of social media
02:03:43 – Bhrett's routine, family & favorite books
02:14:51 – Excellent bedside manner & changes in medicine
02:22:49 – Bhrett's information & final words