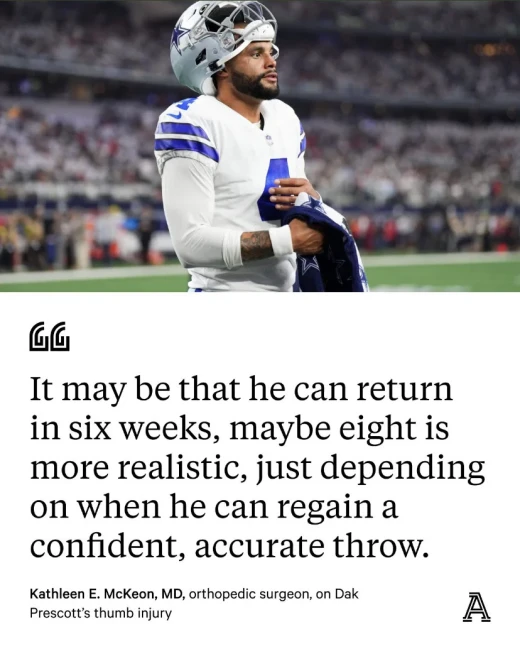 Dak Prescott suffered a severe injury to the thumb of his throwing hand in the 4th quarter of the Dallas Cowboys first game of the 2022 NFL season on Sunday, September 3. The Cowboys hand specialist performed surgery on Monday, September 4.
Two days after the surgery, Dr. Kathleen McKeon shared her expertise on Dak's thumb injury, surgery and projected recovery with Jon Machota, Dallas Cowboys staff writer for The Athletic.
The Athletic
By: JOn Machota
Cowboys owner Jerry Jones surprised many Tuesday morning when he said Dak Prescott would not be going on injured reserve, a move that would prevent the franchise quarterback from playing in the next four games.

A projected return from his thumb injury was originally thought to be six-to-eight weeks. Jones seems to now think it could be closer to four.
The Dallas Mornings News reported that Prescott suffered an extra-articular fracture. That is considered good news because the Cowboys initially feared it was an intra-articular fracture.

To get a better understanding of the injury and Prescott's return timeline, we spoke with Kathleen E. McKeon, MD, an orthopaedic surgeon at the Andrews Sports Medicine and Orthopaedic Center in Birmingham, Ala. McKeon specializes in hand and wrist surgery, with a large majority being sports injuries, fracture care, nerve surgery, joint reconstruction and microsurgery.
To view the full story, click here