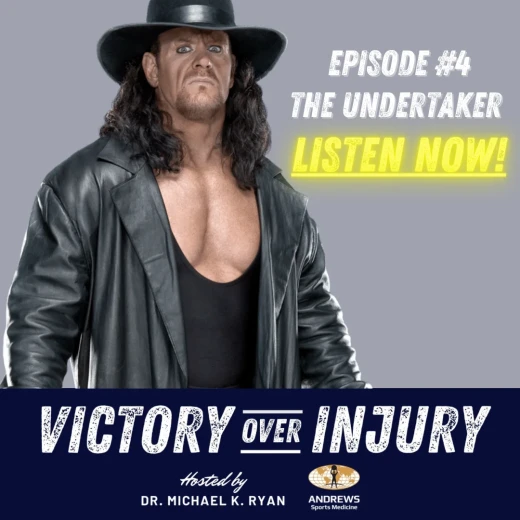 Andrews Sports Medicine's Victory Over Injury Podcast Series explores the depths and peels back the layers of the often overlooked and largely unknown side of sports medicine: INJURY - digging into recovery and the mindset it takes to achieve victory over injury.
In episode #4 of Victory Over Injury presented by Andrews Sports Medicine, Dr. Michael K. Ryan takes a special deep dive into the life, career and experience of one of the greatest professional wrestlers of all time, The Undertaker.
In addition to measurable accolades, his reverence among his peers is unmatched, and sentiment across WWE culture and among fellow WWE superstars, past and current, follows that "there is no greater WWE star than the Undertaker. He is one of the most respected wrestlers and characters in the business."
Only recently retired, Mark Calaway has left an indelible impression on the world of professional wrestling and anyone who has witnessed his story.
Be sure to follow "Victory Over Injury" wherever you listen to podcasts.
A special thank you to our producer, Ed Hill, and our intern, James Harris, UAB School of Medicine (Class of 2023) for helping make this podcast series possible.
Episode Notes
00:03:30

–

Longevity of his career

00:08:13 – The notion that wrestling is fake

00:10:10

–

Highlight of his career
00:12:00 – Growing up prior to becoming The Undertaker

00:13:00 – Fall practice playing basketball senior year

00:23:20 – Being able to outlast everyone

00:27:34 – First real match

00:34:25 – WCW

00:36:00 – WWF Pay-Per-View in front of Vince

00:38:10 – The phone call from Vince that changed his life

00:39:56 – The Undertaker

00:48:15 – Respected amongst his peers

00:56:30 – Injuries

01:11:15 – What is surgery & rehab like (mentality)

01:22:30 – Concussion

01:29:22 – Longevity of his career

01:36:48 – Retirement

01:38:19 – What has Vince McMahon meant to you?

01:41:40 – Future plans

01:43:00 – Favorite venue, legacy & advice

01:45:00 – Advice for those with sports injuries