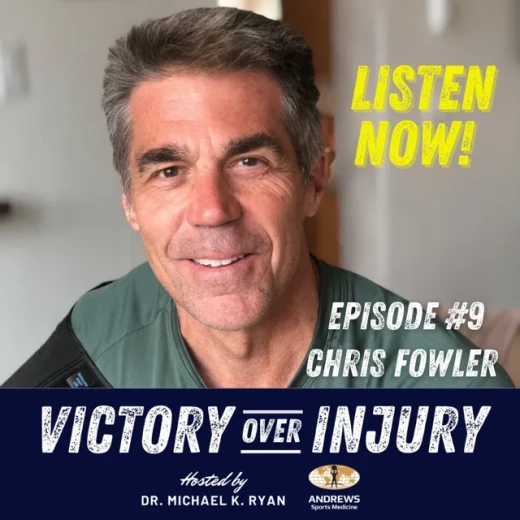 Andrews Sports Medicine's Victory Over Injury Podcast Series explores the depths and peels back the layers of the often overlooked and largely unknown side of sports medicine: INJURY - digging into recovery and the mindset it takes to achieve victory over injury.
In episode #9 of the Victory Over Injury Podcast presented by Andrews Sports Medicine, Dr. Michael K. Ryan takes a special deep dive into the life, career and experience of Chris Fowler.
Chris has progressed at ESPN for more than 30 years and is one of the most respected hosts and play-by-play commentators in television, appearing on many of ESPN's marquee properties, primarily in college football and Grand Slam tennis. He served as the host for College GameDay, the network's Emmy-winning Saturday morning college football preview show, 1990 – 2014. It won the Sports Emmy for Best Weekly Studio Show in 2015, 2014, 2011, 2010 and 2008.
In 2014, he replaced Brent Musburger as the play-by-play announcer for Saturday Night Football on ABC, having him on ESPN's top announcing team alongside Kirk Herbstreit. The duo announce one of the two College Football Playoff semifinal games and the College Football National Championship.
Episode Notes
00:03:15 – Chris Fowler's "Michael Jordan Game"
00:09:42 – Growing up in Illinois & Colorado Springs, CO
00:12:42 – Early career successes
00:17:47 – Scholastic Sports America
00:20:14 – Covering tennis & Wimbledon
00:31:14 – The early years of College GameDay
00:37:27 – The rise of College Gameday
00:42:37 – Sports injuries
00:49:25 – Chris' personal injuries
01:01:20 – Mental aspect of injury
01:01:54 – Identifying an excellent medical team
01:12:51 – Remaining active & maintaining muscle mass
01:19:45 – Love for the mountains
01:23:48 – Be inspired by the possibilities